In early September 2006 I went to the hospital for a chemo teaching session and a tour of the cancer facility that I would soon be visiting on a regular basis.  I was really nervous but also happy that I would have some more information and time to mentally prepare myself a bit more for this.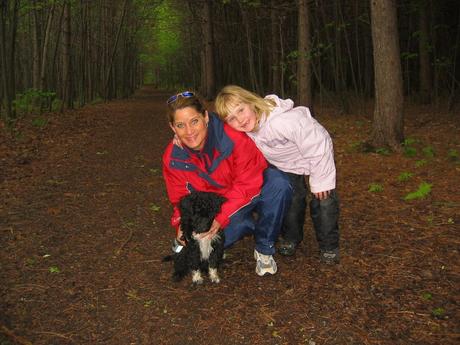 Tasza, Bailey & I - Fall Walk 2005
Although I learned a lot more about chemo at this session, what struck me the most was the other people that were in the classroom.  I was by far the youngest person in the room (besides the person doing the teaching session) and most of the elderly people that were there had their spouse or grown son or daughter with them.  All of us had cancer but we all had different kinds of cancer.  I felt pretty lucky that I only had one disease.  Many of the people that were there had other medical conditions.  Most were wondering how chemo was going to affect these other conditions they already had such as heart problems, respiratory ailments, high blood pressure, diabetes, etc.  My heart went out to these people and to their loved ones that were there to care for them.  There were many questions and the concern on their faces was deep.  However, for some strange reason, most of us seemed to have a sense of humour about things as we listened to the teaching session.
Although I had done plenty of reading I guess there is always something to learn.  We went through how cancer is treated, how chemotherapy works, how chemo is given, side effects, bone marrow suppression, white and red blood cells, infection prevention, signs of infection (fever), going to emergency, pre-treatment blood tests, hair loss, photo sensitivity, emotional challenges and other issues.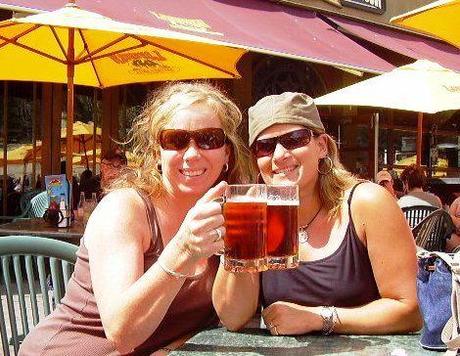 Vicky & I - Summer 2006
I think I'll go a little bit into detail for your information, because you never know when it might be useful to have this knowledge of chemo.  Keep in mind that things change over time and it also depends on your geographic location and access to services.  There is so much to learn and absorb as I suppose there is with any illness.  Here is part one of your Chemo 101 lesson for those of you that are as uneducated on the subject as I was.  This is only some of the terminology and other things I learned and should in no way be considered as solid medical advice.
Treatment
The treatment depends on the stage and the type of the cancer.  Treatment can include various methods that are done individually or in combination including surgery, chemotherapy, radiation therapy, hormone therapy, and immunotherapy.
How Chemo Works
Chemotherapy is drug therapy.  It works by going through the bloodstream to reach all parts of the body and interfering with the way the cancer cells divide.  It works to kill fast growing cells.  There are combinations of treatments with different medications used together either orally and/or intravenously and chemo may also be combined with radiation therapy.  Since the chemo affects rapidly dividing cells, this includes both cancerous cells and healthy cells.  Chemo can take anywhere from 15 minutes or up to six hours to administer depending on the type of medication prescribed.
Fever / Infection
If fever develops (38° C/100.4° F or higher) at anytime during chemo treatment the instructions are to go to emergency at once.  Fever could be accompanied with shaking and chills.  Also, you are not supposed to take Tylenol or Aspirin or anything else until after you are seen by a nurse or doctor.  The emergency department physician must be made aware that you are a cancer patient, that you have recently received chemotherapy, and what medications you have had.  An assessment will be done based on your blood tests and then treatment will be determined.  In some cases you may be kept at the hospital and in others sent home with further medication.  Aside from the fever, other signs of infection include rash, tenderness, sore throat or mouth, and other unpleasant things.
Blood Testing Pre-Treatment
Before each chemo treatment it is necessary to get a blood test.  The oncologist needs to be sure that your blood counts are good otherwise treatment may be delayed.  These blood tests need to be done within 48 hours of each treatment so that the results are back before the scheduled chemo time.
Emotional / Social
This is one area that is really difficult to treat.  Everyone has their own experience and will deal with it in their own way.  Everyone at the chemo teaching session was encouraged to continue our regular daily activities as much as we felt able to do.  If there were things we were unable to do as normal then we should focus on what we could do rather than dwelling on what we couldn't do.  I think we all realized that it is important to learn to ask for help and to try maintaining a sense of humour as laughter really can be great medicine.
Enough for today.  Part two of Chemo 101 to come in the next blog post.  So much information to process.  It can be very overwhelming.
We Are All On Drugs - Weezer