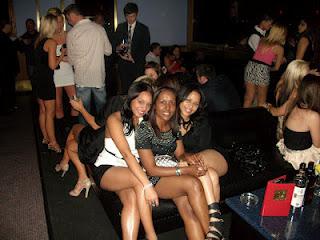 In Vegas for my 25th birthday-Good times!
Most of my readers are single moms and I love that because we have so much in common. Although I am married I will always have a bond with single mothers because that life will always be a part of me. But today I want to talk about the wife, mainly the stay at home wife.  I am blessed to be able to stay home and spend time with Zahara while making sure that my husband has a hot meal every night. But other stay at home moms/wives will agree with me when I say that the sh*t can be so f*cking boring sometimes!!! (I had to curse so you can really feel me, lol.) Anyway, my husband is the provider but at times I envy the fact that he is around adults all day while I'm usually stuck in the house coloring or playing with dolls. Again, I am grateful for this because I understand that some moms would love to be in my position, but it is so different from the fast paced life I once lived. Sometimes I just want to put on some real clothes and heels that I haven't had a chance to wear yet and just get out and feel cute! No children...just adult fun! This should be easy but for me it seems to be a thing of the past. I feel bad when I complain to my husband because his work schedule doesn't allow him to have any fun either; instead of calling him to vent I decided to share my frustrations with you. I will probably miss my free time when I eventually finish school and start working in a busy hospital, but until then...I'm bored. 
I need a solo day at the beach, a vacation with my husband, and a girl's night out! I miss my days of being spontaneous. Sometimes I envy women who are my age who still have freedom...the funny thing is they envy my life as a mother and a wife.
We all want what we can't have...