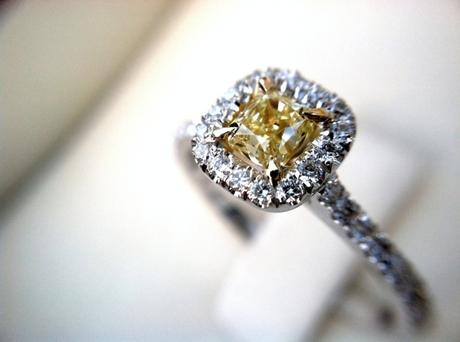 Madelise originally posted her beautiful fancy yellow diamond ring on the Show Me the Bling forum at PriceScope. This stunning Leibish and Co. ring was a door prize from the third Vegas PriceScope GTG, and Madelise got to take it home! Looking at this had me singing, I hope you heard the title in song <3.
PriceScope has created such a special community of like-minded people. Jewelry brings so many people together; it's beautiful, meaningful, historical...just wonderful. Our PriceScopers really enjoy the chance to meet up offline and get to know each other better as well as show off the opulent eye candy! PS GTGs also include trade professionals that are present to answer questions and introduce some of their incredible work! It's an amazing time all around!
The Stats:
Weight: 0.39 carat
Color: Natural Fancy Yellow Diamond
Clarity: SI1
Shape: Cut Cornered Rectangular Modified Brilliant
Dimensions: 3.90 x 3.66 x 2.92
Fluorescence: Very Slight
Set in a 18K white gold halo ring with 0.71 carats of DEF diamond melee.
Congratulations on your win, Madelise, we are glad that you were there and that you are a part of the PriceScope family!
Visit the original post with more pics and join me in congratulating Madelise!
On Throwback Thursdays, we celebrate beautiful pieces that have been shared over the years!
Thank you so much for sharing your jewelry experiences with us. Keep revisiting PriceScope's past with us each Thursday!
#TBT
Come show off YOUR fantastic bling with fellow jewelry lovers and trade professionals Learn more about fancy yellow diamonds from PriceScope