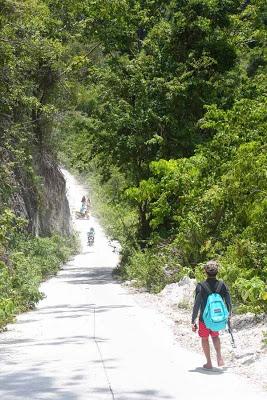 Doesn't look to steep?
Wait til you get to the bend in the road.
Going to Tumalog Falls in Oslob, some 117 kilometers south of Cebu City, you will have six chances of dying.

Chance Number 1:
 By taking the Ceres bus from South Bus Terminal in Cebu City to Oslob.
Danger Level:
Death may come within three hours, depending on the recklessness of the bus driver.
Cost:
Php 149, one way

Chance Number 2: 
By taking a 10–minute motorcycle ride from the highway junction for Tumalog Falls up to the entrance for the waterfall.
Danger Level:
1. Road is cemented and not steep.
Cost:
Php 120, roundtrip
If you have reached the entrance to Tumalog Falls without a scratch, here's
Chance Number 3A
: By taking the motorcycle death ride from the entrance down to the waterfall.
Danger Level:
5. Road is cemented with some steep inclines. Death imminent in two minutes or less.
Cost:
Php 50, roundtrip
A quick death not your thing?
Chance Number 3B
: Walk from the entrance to the waterfall. And roll down the road over to the edge or get run over by those on the motorcycle death ride.
Danger Level:
3. Death may come in 10 minutes or less.
Cost:
A bucket or two of sweat, especially when walking under the scorching midday sun. Also a bundle of quick reflexes and a high level or alertness for motorcycle dodging.
Lucky duck! You reached the waterfall with just sweaty armpits and aching knees? You have two more chances. 
Chance Number 4
: Drown in Tumalog Falls' basin.
Danger Level:
1. You would have to struggle to drown in Tumalog Falls' very shallow pool. The d
eepest part is up to the waist only.
Cost:
Php 20, fee should have been paid at the entrance, before taking Chances 2A or 2B.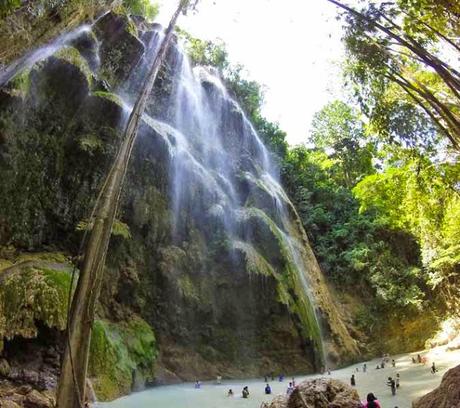 It would be a struggle to drown here
Since the previous option was a poor one, 
Chance Number 5
has a higher probability of working: Stay under the waterfall and get hit by rocks falling from above. Okay, you probably won't die, but chances are high that you would get lumps in the head.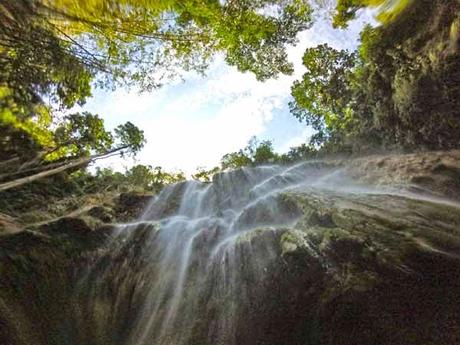 I am kidding. Tumalog Falls is safe. Chances of dying here are nil. I am sure everyone who comes here would feel lucky to be a witness to Tumalog Falls' splendor. Especially when looking up from under the waterfall (taking chance number 5?). I did. Look up from under the waterfall. And I thought the view, looking up while being pelted by water, and not rocks, was beautiful. And felt absolutely lucky to be dwarfed by magnificent Mother Nature.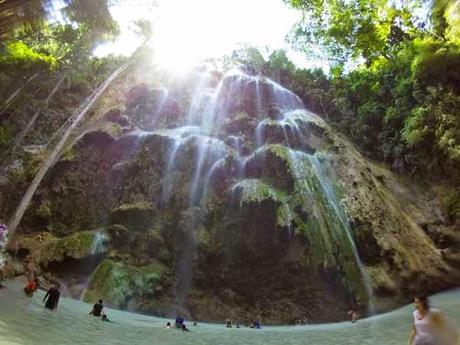 How Tumalog Falls contributed to my wallet's death:
Bus from South Bus Terminal to Oslob Php 149
Habalhabal
(motorcycle) from highway to Tumalog Falls and back Php 120
Tumalog Falls entrance fee Php 20