This was yesterday's outfit post. I've been trying to find a pair of black denim shorts for a while, but after having a sort out of all my clothes an old pair of wax jeans were the perfect basis for a pair of black shorts. Not only are these practical for the summer, but they will also last me through until winter, worn over a pair of funky tights.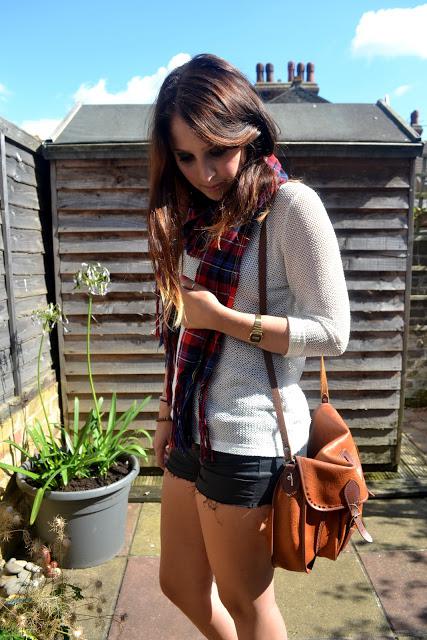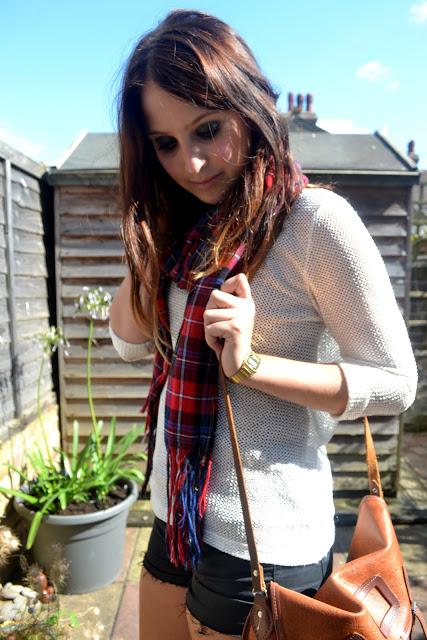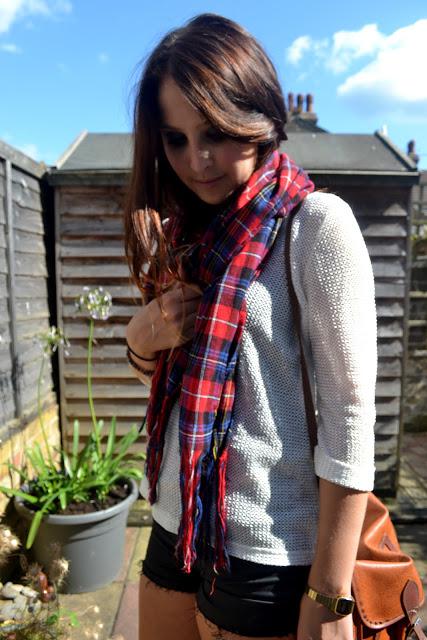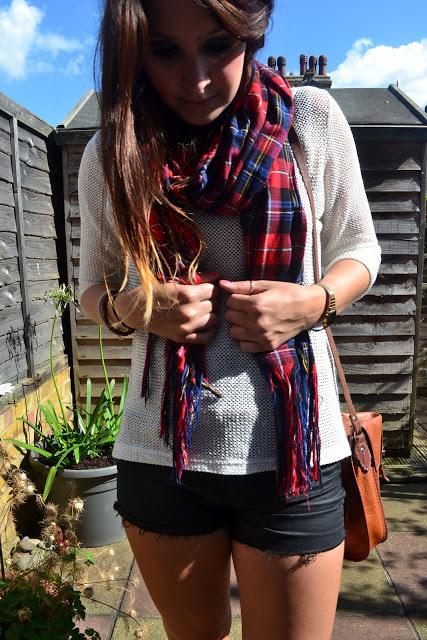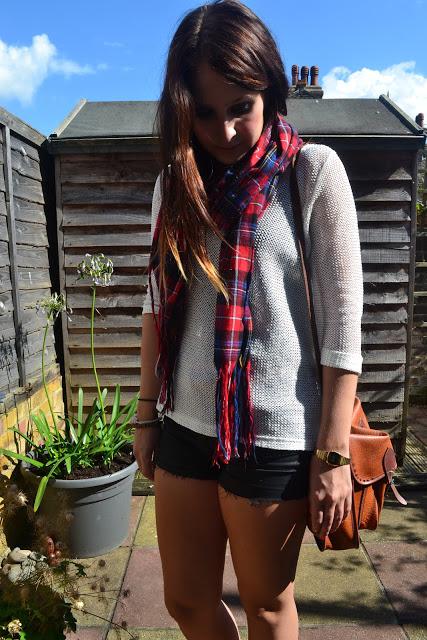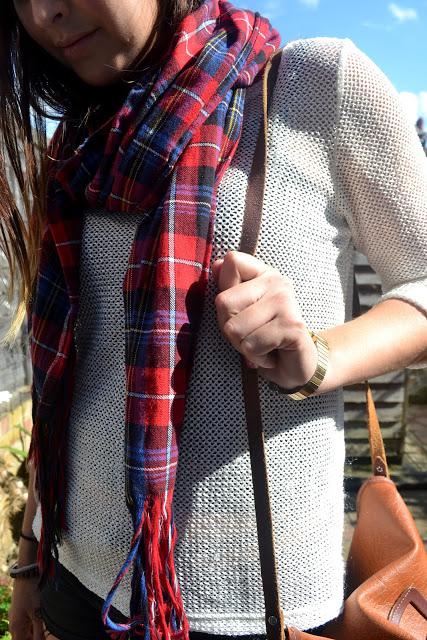 Silk Crochet Knit: River Island, Black Wax Shorts (were jeans from Topshop), Tan Satchel: own Vintage find, Tartan Scarf: Topshop, Gold Watch: Casio
Follow these simple steps to turn an old pair of jeans into a fabulous pair of shorts:1.
Choose your denim. I chose a pair of old wax jeans that ended up being too short for me. (An alternative, if you haven't got a pair you can part with, hit the charity shops in search of a pair of jeans you like in terms of color and design. Remember it doesn't matter about the length as you'll be cutting them anyway).
2.
Decide on the style of shorts you want to achieve. I chose a black hotpant. (I found it helpful to measure the jeans up against a couple of pairs of shorts to ensure I got the right cut and right length).
3. 
Once you have decided on the length, make sure you cut them a bit longer than what you initially want. Remember you can try them on as many times as you like. This way you can guarantee you'll get the correct cut. You can always shorten them, but you won't be able to stick on what you've cut off.
4.
 Grab yourself a pair of large scissors. These are the best thing to cut through denim.
5.
Angle the scissors, and pointing them up to the crutch, cut. Don't cut straight across as they won't sit right. (If you look at the cut of shorts you'll find they are cut on a slight angle).
6.
To achieve the ragged edging, simply use your fingers to pull the stitching. The more you pull the better the fraying. Don't go too mad though.
Easy little things like recycling your old clothes can be a simple way of creating a new piece of clothing without spending a penny. I teamed my wax shorts with my cream crochet silk knit, my tan satchel, and added a splash of color with a favorite Autumn piece: my tartan scarf purchased from Topshop a few years back. I hit the high street yesterday, several funky purchases to follow. Check out my instagram for a taster:
hubby5
Be excited.
Amie
♥