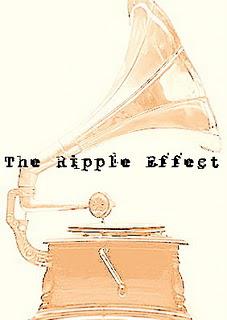 Waveriders!  First of all, thank you all so much for popping in with us and checking out reviews on the "best music you're not listening to."  Our goal is for our writers to find music that truly excites them, then unleash themselves upon their keyboards to write missives and spread the word.
We've been growing like crazy recently, as we've crossed over 3,000,000 hits and our staff keeps on expanding so here's a preview of what each week has in store for you.  Of course, sometimes things change because of schedules, but basically, here's the rundown.
Sunday begins our week with Cicatriz laying down the hardcore punk and metal, grindcore, deathcore, and occasional variation followed by The Slapphappy Mortician digging into weird worlds of electronica and interesting pop.
Monday is Racer and the Pope writing about whatever catches their ears.  Look for a resurrection of the regular columns we used to do so frequently, like the Proto-metal Report, Musical Martyrs, On the Ripple Desk, and Single Life.  You never know what might catch Racer or Pope's ears for writing that week, but it will probably be full of ambient metal, stoner groove, retro-rock, post-punk, garage and punk.
Tuesday brings on the fuzz with Heddbuzz laying into the stoner groove, doom, and riff rock, followed by Ripple's very own graphic artist, Boogs, writing about what ever rocks his world.  But it will rock.
Wednesday is filled with the missives of Penfold and his regalia of tales as he explores the worlds of avant-metal, hip hop, and pop darkness.  Following which comes our own NW radio personality, Odin, who's all metal all the time. 
Thursday we get entertained by the punky, rocky, metallic, off-the-cuff world of Woody as he delves into his love of all things Motorhead, Stooges, Grand Funk and more.  And don't forget his occasional reading list suggestions, The Ripple Library, with books full of rich rock history.  Then, on days when we're lucky, England's Grifter, Ollie, lays down some heavy riff-rock love.
Friday is heavy, with Horn and his love of metal, sludge, doom and jazz followed by Ripple's newest scribe, Gorgeous Nightmare who delves into metal of all sorts from gothic, to sleaze, to power.
Saturday brings the varied and entertaining worlds of Mr Brownstone and Old School who's ears perk up with wonderously different sounds.  Expect lots of alternative pop, classic rock, blues, jazz and even a touch of bluegrass.  But really, we never know what's going to come next. 
On top of that, we'll still publish the odd bit of news, free compilation links, and interviews.  And the Blogtalkradio link updates every month with the latest podcast from the Ripple Radio Show.
And don't forget to pop over to our companion facebook page, where we'll publish every week (if not every day) links to free downloadable singles, albums, and compilations.
Yes, it's all here on the Ripple.