---
Sands of Time is the anticipated 6th book of the Costa Leona series written by Jonaxx. It's a story of love, forgiveness and justice. Just like her other stories, this one sent me to a roller coaster ride of emotions and I suddenly found myself crying. The scenes, the lines, everything about this story is just amazing. Well, what can you expect from Jonaxx eh? Highly recommended!
---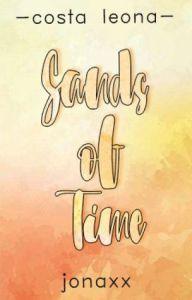 Sands of Time by Jonaxx
Series: Costa Leona, #6
Genre: Tagalog Romance, Contemporary
43 chapters
Format: eBook
Source: Wattpad
Rating: 4.5 out of 5 stars
Read on Wattpad
Find on Goodreads
Review
After not being able to read books for two weeks (shame on me), I suddenly have a mood for some Jonaxx story. I saw that this story, Sands of Time, which is the 6th book in the Costa Leona series was already completed, so I decided to read it. And my! It's another amazing story from Queen Jonaxx. I still don't have any idea how can Jonaxx make me feel this way. All her stories especially her latest we're so good that I always ended up losing my sanity.
For this story, we've got to introduce into another hot Riego. I remember Raoul who is the best friend of Zamiel from the Costa Leona book 5. I see him as this serious and quite intimidating Riego and I can't believe he'll make me fall this hard. Normally, when I am reading a romance story, I ended up loving the hero and claim him as mine. But with jonaxx's stories, I don't do such thing. I fell for the hero but at the same time, I want him to end up with the heroine. Jonaxx writes amazing stories that it doesn't just make you fall in love but it will also give some life lessons. For this story, it was ofcourse a typical haciendero falling in love with just an ordinary girl, but what makes this story different from her other stories was the background of the heroine and ofcourse the conflict. I love that Jonaxx extended her reach again in this story and decided to try other things. I love that she made this story really romantic and also very emotional. My! I really cried a lot in this story. The scenes, the conflict, and what the characters were feeling, they all sent straight into my heart.
It's funny because I always think that Tagalog romance were cliché before. But ever since I discovered Jonaxx, I suddenly forgot that thought. Every story she makes, every characters she introduced, every conflict, every scenes, every lines, all of them proved to me that I won't be dealing with cliché or ordinary stories anymore.
I started reading stories in Wattpad before starting this blog and I've read tons of stories from different authors before, but for the past few years, I just find myself reading stories solely from Jonaxx. It seems like my Wattpad account was made just for her lol, but I'll try to check out other authors again because heaven  knows I need to because of the hundred plus stories in my reading list, haha.
Just like the previous book, the hero in this story also fell in love with a younger girl, which is far from his usual type. It's ironic because both Raoul and Zamiel likes mature women, but then they ended up loving younger girls. But what makes this story different is the backstory. I love that Jonaxx tried something new in this story and I love every bit of it. I also love the fact that the hero is not the usual hero of Jonaxx. Raoul sure is possessive but with moderation and he let Leil grow and experience the things that every teenagers need to experience. He let her entertain suitors, have friends and experience having fun with them. Whenever I think about Jonaxx heroes, all I could think is a hot, sexy, intimidating and possessive alpha male (and I'm digging it, haha) but now with Raoul, I can add matured (all of Jboys are matured actually, but Raoul gave a different meaning to it) and with huge self restraint. I love that he helped Leil grow up even if there's some slight ulterior motive in his part haha, and let her live her life. Aside from that, I also love that Raoul didn't gave up and really fight for her
I don't like the idea of sacrificing in some romance stories. I really hate it that one of them needs to sacrifice for the sake of the other, that's why when Leil decided to break it up, I can't help but get annoyed. Ofcourse I understand her point and I guess I will feel guilty too, but it's just annoying that the two of them needs to get hurt just so other people wouldn't. Love can be selfless yet selfish too but in their case, I have to say that I fully understand Leil. Even if she was brought up by lies, she still grew up as a kind-hearted girl. Di bale ng xa ang masaktan wag lang ang iba. I used to hate that characteristic on a heroine, but in this case, I have to say that I fully understand. Besides, in the end she decided to finally fight for their love.
I really cried a lot reading this story especially on the confrontation part with the Riego family. I can understand both party especially to Raoul's mom. It breaks my heart whenever Leil cries and Raoul getting hurt. This story is really something. But I'm bias, haha, so instead of giving this one a perfect 5-star, I am giving it 4.5 stars. Sibal's story is still my favorite, and that's my only reason haha.
Just like the other books in the series, this one ended with one chapter taken from Raoul's point of view. It explains how he started to fell for her, on what he did to have her, on what he felt on those times that he need to give her up for a while and on what are the pains he endured. I love that his character was given a room for growth especially during the darkest time of his life.I have to say that his character really stood up for me in this book. For sure some will get blinded with so much hatred that they can hurt other people too but because of his love for Leil, he started to heal.
The meeting with the Ledesma and their reaction of Leil and Raoul's engagement was priceless. Ofcourse I feel sorry for Prince but I can't fully pity him because of the things he did for Leil, he's being selfish of her just because he doesn't want other guys courting her but in the end, Leil still ended up with Raoul. And I really like that, haha.
I think that there's still a need for a little scene between Leil and her father. I bet he's using drugs because he became that crazy, but with a happy ending like that, well, I guess it's ok.
So for those romance addicts out there, Sands of Time by Jonaxx is perfect for you. It's the 6th book of the Costa Leona series but you can definitely read it standalone. I won't be recommending just reading this story though, try reading ALL the books in this series and I'm sure you'll become a fan too.
Favorite Lines
I don't know where I stand in your life. Pero alam ko ang gusto ko at gusto kong maging tayo. Until now, I'm still doing my best to make everything fine for the family. At kaya kong ipagpatuloy lahat ng ito, Leil.. sa halagang sa akin ka.. I'm in love with you, Leil. My days will continue to be dark without you. I will love him and his family this way. The love that understands pain, and will never hurt back. The love that embraces wrath in the hopes to fill a sad heart with joy one day. She was pure a long time ago and it did not change one bit today. She's the light in my cold dark nights. Her light made all the darkness in me fade away. Her love enveloped my cold, hard soul with an unending warmth. She is the very reason why I put that gun down and let the law of men take care of it all. She is the reason why the darkness in me subside, after years of living in it.
Challenges
Goodreads Reading Challenge
Mount TBR
Alphabet Soup
eBook Reading
Review Writing
You Read How Many Books?
Check out my book shelf for book suggestions and recommendations!
BOOK SHELF: Wattpad
Subscribe To Blushing Geek