The perfect summer libation; these Watermelon Mint Mojito Cocktails are a great antidote to the heat of the day. Best to wait until watermelons are at their peak!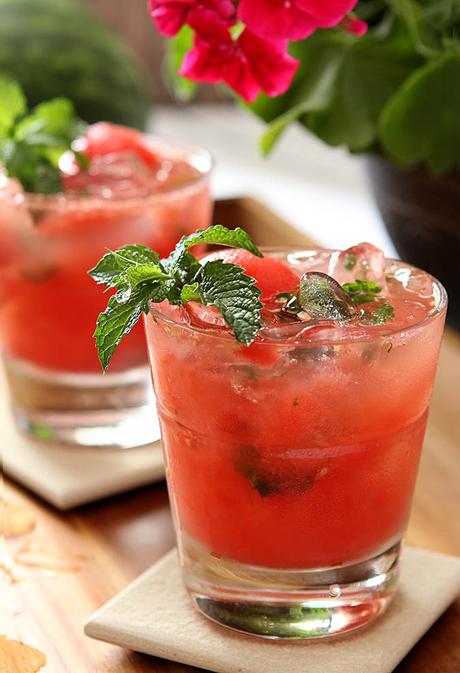 The thing about summer fruit and veggies that you don't grow yourself that drives me nuts? How to tell if their quality will be summer fresh or just as bad as winter produce. I will never have a watermelon patch in my small garden area so I rely on the grocers and farmers markets to provide a melon that lives up to expectations. I made my first watermelon plunge last week at Sprouts when I decided I wanted to make these Watermelon Mint Mojito Cocktails.
You can knock them and sniff them and perform voodoo I suppose but I always feel like I'm lucky when I get a perfect specimen. I do have a checklist I use to try and find the best fruit and the melon I bought was so perfectly ripe and red and juicy and filled with flavor that this cocktail finally won the opportunity to shine.
How to determine if you have found a good watermelon? These are some good indicators:
Find the field spot, it should be a yellowish creamy color on the outside where the watermelon was resting on the ground.
Pick a dull looking watermelon; shiny melons are not yet ripe.
Knock on it with your knuckles; the surface should be hard/firm. A dull thud indicates the flesh inside is getting soft...put that one back!
Get the heaviest one for its size; water is heavy and a lot of water in a watermelon is a good indicator!
Check for uniform shape - round or oval is fine...but irregular edges might indicate an inconsistent water source
I actually remember the first time I had a Watermelon Mojito. I was out with friends in the midsummer heat and this cocktail sounded divine. Sadly, the drink was made all wrong and it was a big disappointment. What had they done? They blended the watermelon with other ingredients instead of muddling them and that blending did not work for me.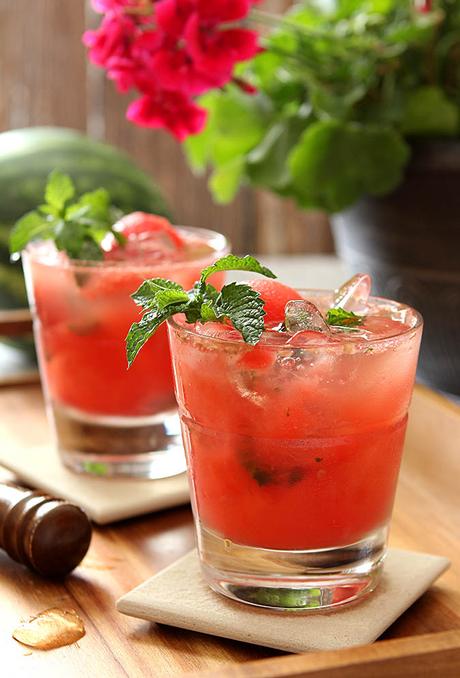 Mojitos are sort of messy and imperfect, with the fruit, juice and sugar muddled together with either a muddler made just for that purpose or using the back of a spoon. Sipping on a perfectly blended one changed the entire mouth feel and seemed so wrong that I set out to right that wrong with this concoction today. All I can say is bless this mess!
I think the restaurant also used ginger ale instead of club soda. Just no; this is not a Moscow Mule! Whenever I do a variation on a theme there are some standards and I wouldn't substitute club soda for ginger ale in a mojito any more than I would think that bourbon would work for tequila in a margarita; the soda should add a slight fizz but not really interfere with the already perfect flavor profile.
Should we talk about mint for a second? I know lots of gardeners refuse to plant mint, it can quickly become invasive. But I have a great solution! Plant your mint in a 5 gallon paint bucket from the hardware store, then dig a hole in your garden big enough for that bucket and put it in the ground.
It will contain the roots and prevent the spread and you can enjoy your mint year after year without it become your ONLY plant! I left a plant at my old house that was still thriving after 23 years!
These Watermelon Mint Mojito Cocktails deserve the best watermelon and some beautiful fresh mint...and you deserve this drink. Go on...get the grass cut and then sit back and enjoy your handiwork with one of these frosty and perfectly summery libations. Cheers!
PIN 'Watermelon Mint Mojito Cocktails'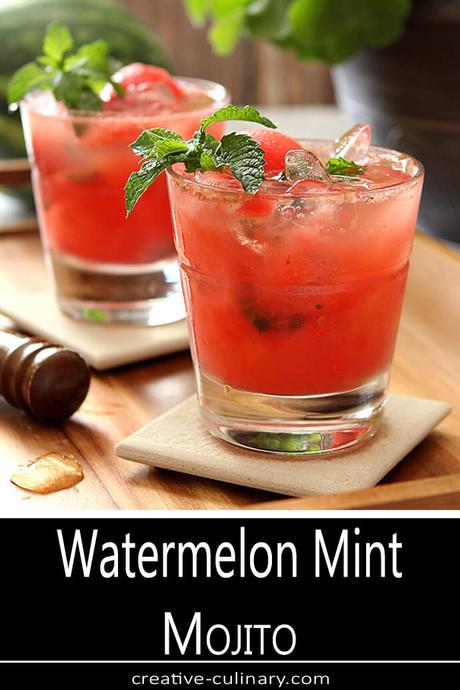 Want More Cocktails? Check out Friday Cocktails with hundreds of fantastic drinks! →