This Watermelon Margarita cocktail is pretty perfect for July 4th isn't it? All red, white and blue. Even if the blue are some blueberries nowhere to be seen in the recipe; I had to do it for the holiday that celebrates the Independence of these United States from England two-hundred and thirty-eight years ago today.
Any other day? They are just fluff and you can garnish with whatever you want (though I recommend a lime wedge!). Last year I did a blueberry cocktail but it actually turned out purple as is typically the case; blueberries are only blue in their original form and I wanted them as part of my homage to the Red, White and Blue but not a part of the actual drink…might taste good but I was a bit concerned about red, white and purple!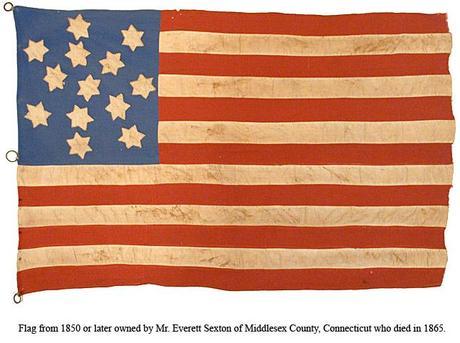 The Declaration of Independence, proclaiming America's independence from England 237 years ago, was formally adopted by the Continental Congress on this day and the rest is history. I personally love seeing the homes with flags affixed to the front proudly celebrating this holiday. I recently saw some comments about our proclivity to fly a flag on our homes; during holidays or even all year round. Some might think it's overdone but I for one love that citizens wants the world to know how much they love this country. Far too often we are categorized by small parts of the population that the world thinks represents all of us (Example: Kimye. UGH!). And for the most part politicians and celebrities represent none of us. The honest, hard working people you know that care about their families, the food they eat and how they treat their neighbors. Those are the folks I'm celebrating today and there are a LOT of us out here!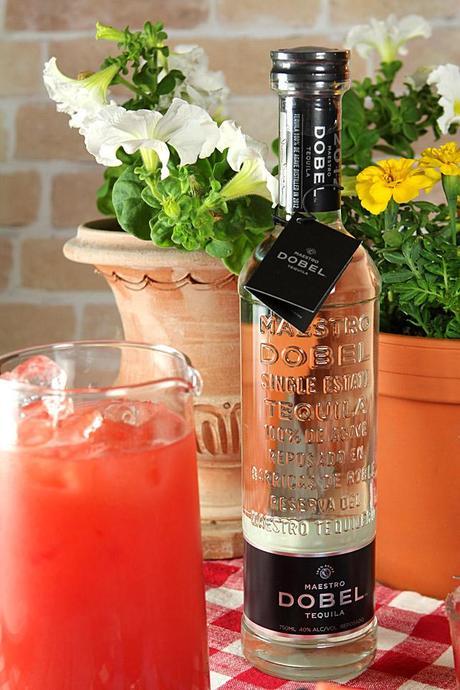 It is a time to celebrate and we do it up big time with barbecues, picnics, lots of food and of course beer, sangria and light, fruit forward cocktails. For this watermelon margarita, I thought it perfectly matched with a tequila like Maestro Dobel Tequila which is a Single Estate, 100% Agave tequila. The crystal clear spirit comes packaged in a heavily embossed bottle that's simply beautiful. I've long lauded the superior quality of a Reposado tequila and this one is no exception. That crystal clear component was especially important; I didn't want anything to change the bright color of the red; orange is so not traditional on this day!
Dobel Tequila is one of the United States fastest growing ultra-premium tequilas; recognized for its superior smoothness and iconic packaging which includes a stopper and a modern twist on a vintage apothecary-style bottle; a heavily embossed design that's inspired by vintage laboratory glassware used by the Maestro Tequileros (master distillers) in the early part of the last century.
If you're not familiar with Reposado tequila, this is a great one to try. Aged for one year or less, that time is enough to smooth out some of tequila's rough edges. You must try it…and when you do? Gold will be passé, I promise.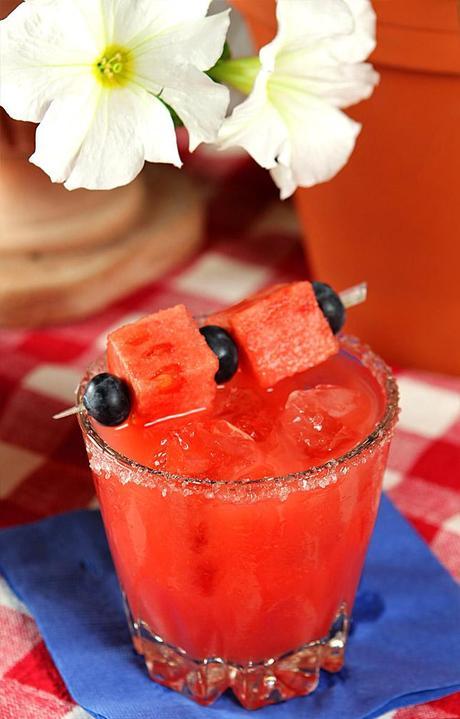 The truth is I did not plan this cocktail weeks in advance, knowing a celebration was coming that would work with red. Nope…nothing even close. As it turns out I went with my friend Jane to see the movie 'Chef' last week and we stopped for a cocktail afterwards. The evening was warm and perfect and when I spotted a watermelon margarita on the menu I was hooked. Line and sinker. It was good and I knew I wanted to make one but I thought it needed just a bit more oomph and for me that oomph came from strawberries. I tried making one first with just watermelon but like the drink at Chili's it was a bit lacking; watermelon is so much water that the flavor did not have quite the punch I wanted. After much thought and consideration (or…what red fruit did I have in the fridge?) I decided to try adding some strawberries. Perfect. They somehow magically added a lift to the watermelon without taking over the flavor. The rest is pretty typical margarita fare but again, wanting to boost the fruit component, I used part orange liqueur and part orange simple syrup; I wanted that citrus note without all of it being accompanied by more alcohol. The requisite lime juice and it was done. AND it was good. I have a whole pitcher made for neighbors. Today will be blueberry snow cones for the kids and watermelon margaritas for the adults. Who's coming over?
By the way…that movie 'Chef?' LOVED it. Just a charming movie through and through and blog inspiration too. One word. Cubano. It is so going to happen!
Have a safe and very Happy 4th of July. CHEERS!!


Watermelon Margarita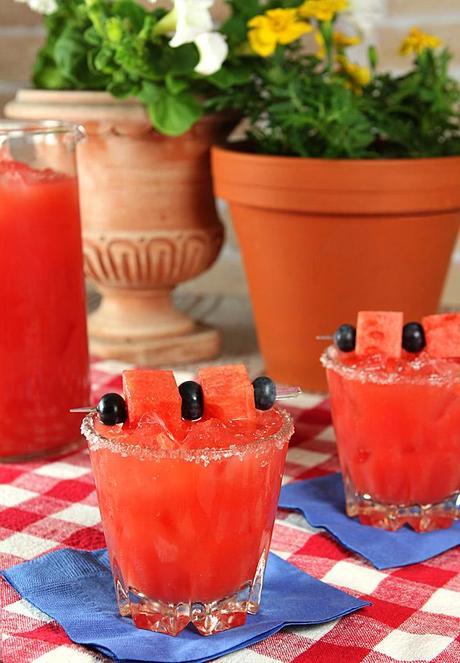 Ingredients
1/2 cup sugar
1/2 cup water
Zest from one orange
4-5 cups cubed and seeded watermelon (I used a small seedless and it was just about the perfect amount for the mixture and some cubes for garnish)
1 pint strawberries, cleaned and hulled
1 and 1/2 cups tequila
1/2 cup orange liqueur
1/2 cup fresh lime juice
For Garnish:
Salt and sugar for rimming (I mix equal parts together)
Lime slices, watermelon cubes and blueberries for garnish (skip the blueberries if you want for non Independence Day cocktails!)
Preparation
Bring water, sugar and orange zest to a boil in a small saucepan, boiling just long enough for the sugar to dissolve, 1-2 minutes. Remove from heat; strain out the zest and cool completely.
Combine watermelon and strawberries in a blender and puree until smooth. Pour over a strainer into a large bowl to remove solids.
Return fruit juice to blender and add tequila, orange simple syrup, orange liqueur and lime juice and blend thoroughly.
Put pitcher into refrigerator for at least 2 hours allowing flavors to meld and mixture to get cold.
Put salt and sugar mixture on a plate. Rub the rim of glasses with a quarter lime slice and dip them into the salt/sugar.
Fill glasses with ice and add the watermelon margarita mixture; top with garnish of watermelon cubes, berries or lime slices.
2.5
http://www.creative-culinary.com/watermelon-margaritas-4th-of-july/
This recipe brought to you by Creative Culinary | A Food and Cocktail Blog | Website: www.creative-culinary.com
Another fun 'cocktail' for today and all summer long? Margarita Watermelon. Slices of watermelon are drenched in a mixture of tequila, simple syrup and lime. So amazing. And yes, we slurped from those plates!
I was provided with a bottle of Maestro Dobel Tequila but all commentary is my own.