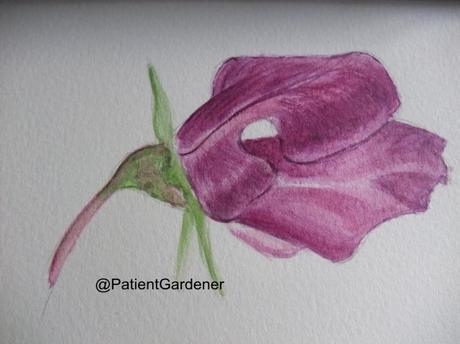 As long-term readers of this blog will know I dabble in botanical art.  I use the word 'dabble' advisedly since my abilities are far from the pristine scientifically correct paintings you see at RHS shows.  I have been going to classes once a week, 2 hours a week, about 26 weeks a year for a couple of years now and I have definitely progressed.  However, I have a huge stumbling block  in that I have no confidence at the best of times in the class and have to ask the tutor to show me each stage so any idea of having a go at home on my own are non-existence.
Anyway, the other day on Twitter a new follower (@penelopehellyer) commented that she dabbled in botanical art and she recommended the books of Billy Showell as a way of learning techniques and maybe overcoming my lack of confidence.  I had a look and ordered A – Z of Flower Portraits as this was obviously watercolours.  It arrived on Saturday and I wasn't disappointed.  The paintings are beautiful and far more my style than some botanical illustrations I have seen.  In the book Billy shows some basic techniques, all of which my tutor has shown me, with step by step instructions and then there are 40 portraits of flowers with step by step instructions.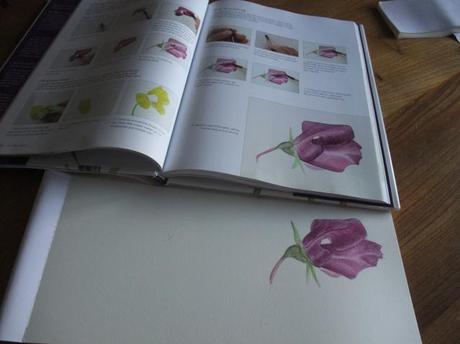 My youngest son egged me on reminding me that I learn better from books than being shown or told and for the first time since I started the classes I actually had an urge to have a go on my own.  Being on annual leave, and it raining, I decided this afternoon I would have a go.  So first step was to practice some of the techniques I had been taught following the instructions in the book – firstly wet on wet and then dry brushing which I find incredibly hard.  Anyway I am quite chuffed with the result, the drawing isn't great but then I didn't bother too much with it as I can draw and it was the painting I want to practice.
Next is probably a leaf – leaves are feared by all my class mates and you would be surprised at the lengths they go to avoid these green demons.  Not sure when the leaf will appear but the biggest thing is that I actually feel a little bit confident and didn't bail out  at the first hurdle.