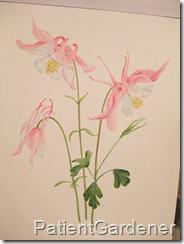 Anyone who has read my blog for a while will know that I am learning to do botanical art.  I  have been attending weekly clashes for a couple of years now.  Although the classes are only 2 hours long and there are only 8 –10 classes each term.
My latest effort has been a group of Aquilega flowers.  As our classes are so short it doesn't always work using live material so I have used photographs for this composition.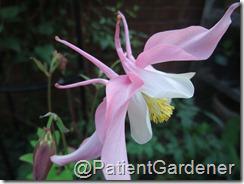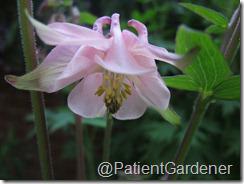 As you can see there has been some artistic license as the photos were not from the same plant but as I'm not up to competition standard this really doesn't matter.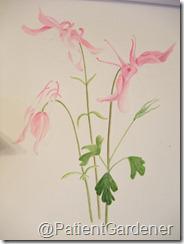 This is my picture about a month ago before I had to start adding in the details.  This is something I find incredibly hard and its all about trying to make the picture look 3D.  So I had to add in the stamens and pollen grains, put in veins on the petals and shadow.  The reason I find this hard is that I am quite heavy handed and before starting these classes I was used to working with pastels on a larger scale.  Pastels are far more foregiving than watercolour – it is quite easy to achieve a muddy effect with watercolour.  However we have a very good tutor who is a freelance illustrator and teaches us all sort of tricks to achieve the results we want and to rectify our mistakes.
I know people I have shown the finished picture to think it is good and I am very pleased with it but I also know, having seen other work, that it is far from the high standard of some of my class mates and I have quite a way to go to improve the finish.  I need to get better at fine lines so I get a crisper finish, I need to be able to apply the color more evenly and I need to more techniques so I can replicate different textures but I am making progress. Here is my first attempt – some plums.
My next challenge, I think, is going to be some gingko leaves from the book Seeing Trees.  The photograph I have chosen will give me the opportunity to work on my application of paint evenly and also getting my fine lines better.  Don't hold your breath though as I doubt it will be done much before Easter 2012