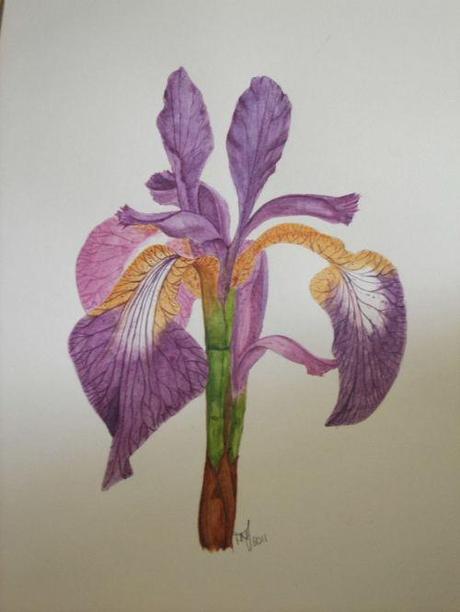 Finally I painting that I am really proud of but then again I am a tough critic of my own work.  It has taken quite a few lessons to finish this and there are definitely areas which I wish I had the ability to do better but compared to when I started nearly 2 years ago it is a real improvement.  Before I started my Botanical Illustration classes I wouldn't have even considered attempting a picture like this let alone drawing an Iris.
I was really pleased with my last picture of an Iris foetidus seedhead but this latest watercolour was far more challenging with the veining on the petals and trying to make sure it looked 3D.  Its much easier to make berries look three-dimensional than petals!!
I worked from a photograph of an Iris sibirica flower which I took in my garden (below) but as the colour had been washed out a little due to the sun I also worked from some other photos.  This is a skill my tutor uses all the time when he is coming up with illustrations for books.  I find it amazing that he can take a range of photographs of a plant or currently fungi and come up with a photo.  I can copy well but struggle when I have to interpret the pictures.  Generally, we don't use live plants as we only have 2 hours a week so it is challenging to keep the specimen going from one week to another.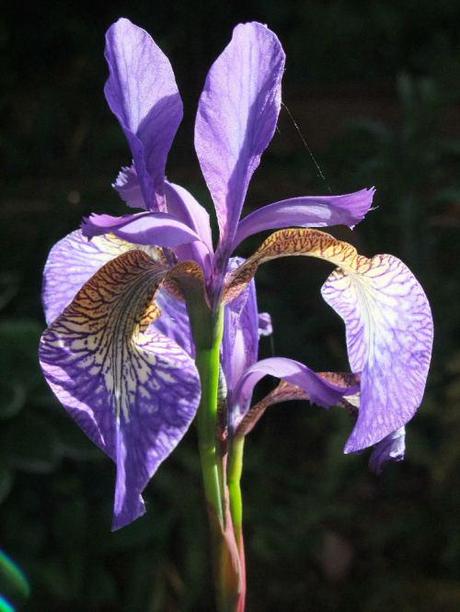 My next effort is of Aquilega McKana.  I have some photographs of flower-heads in various stages of opening so am trying to compose a picture from them.  They are incredibly difficult to draw which I hadn't appreciated until I started.  In fact drawing flowers really is an excellent way of studying plant composition and form – you have to really stop and look.
As for the Iris picture it is now framed on my Mum's wall as I gave it to her as a birthday present.