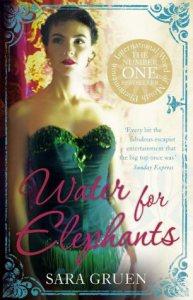 WATER FOR ELEPHANTS BY SARA GRUEN
TWO ROADS (PAPERBACK), 2008
448 PAGES
This book is part of my Popsugar Reading Challenge 2015. The category for this book is 'a book with bad reviews'.
I choose this book at random by looking at books on Good Reads that had the lowest ratings. I had no idea what the book was about when I chose it. I liked the title which for some reason reminded me of the rhyme I was taught in school to learn compass points – Naughty Elephants Squirt Water (N, E, S, W). The book has nothing to do with this by the way.
BLURB FROM THE COVER
When Jacob Jankowski, recently orphaned and suddenly adrift, jumps onto a passing train, he enters a world of freaks, grifters, and misfits the Benzini Brothers Most Spectacular Show on Earth a second-rate traveling circus struggling to survive during the Great Depression, making one-night stands in town after endless town.
Jacob, a veterinary student who almost earned his degree, is put in charge of caring for the circus menagerie. It is there that he meets Marlena, the beautiful young star of the equestrian act, who is married to August, the charismatic but twisted animal trainer. He also meets Rosie, an elephant who seems untrainable until he discovers a way to reach her.
Water for Elephants is illuminated by a wonderful sense of time and place. It tells a story of a love between two people that overcomes incredible odds in a world in which even love is a luxury that few can afford.
EXTRACT
I am ninety. Or ninety three. One or the other.
REVIEW
I really enjoyed Water for Elephants. I didn't love Gruen's novel but my feelings were far from loathing. I really don't understand why this novel is slated so much. It's not the best book I've ever read but nowhere near the worst. There are some things about Water for Elephants that I thought were great. I loved the Circus setting. I love books set in the Circus or a carnival of come sorts. Three of my favorite books are set in such places, Joyland by Stephen King, The Night Circus by Erin Morgenstern and Nights At The Circus by Angela Carter. Gruen gets the whole Circus thing spot on. I liked the fact the novel is set in the USA during the depression era. I've not read a lot about this era so I found some of the detail interesting. I liked most of the characters. They were all very real. I loved the frame story with Jacob in his nineties in a care home haunted by memories of the most important events of his life. Gruen perfectly captures what's it's like to be old, sad, alone and struggling to hold on to the few things you have left. I really liked the dramatic events towards the end of Water for Elephants that allowed Jacob and Marlene to be together. The only bit of Water for Elephants that didn't work for me was the whole Jacob/ Marlene / August love triangle. I found this irritating at times. Water for Elephants is a decent read.
RATING