by Hedge
Starring: Taylor Schilling, Jason Biggs, Laura Prepon
Orange Is The New Black crept up on me the way a drug pusher might approach you in the men's room. Slowly, on the fringes of perception and then all at once, in your face, hawking their wares. The pusher in this analogy was Tumblr where a few weeks ago I started to see the occasional subtitles screencap of a prisoner or two, usually a blonde, perpetually frustrated WASP but often also an attractive African American woman with duct tape slippers.
This ladies and gentlemen was just the start of my exposure to OITNB, which went from those one or two screencaps and the occasional GIF to being pretty much* all I saw on my dash. So what is it? Well as I quickly learned, OINTB is a smart, funny and often quite stark comedy-drama series, a Netflix original, about Piper Chapman (Taylor Schilling); the aforementioned WASP who is imprisoned for her part in a drug cartel's international dealings. She never sold the drugs, she just carried the money – working as a mule for her then girlfriend Alex Vause (Laura Prepon).
The series chronicles her adjustment to life in the women's prison, Litchfield Correctional, which is possibly the most ineptly and corruptly run federal penitentiary in history and is based on the identically titled biography of Piper Kerman, which details her own experiences in prison. Kerman serves as an executive producer on the show.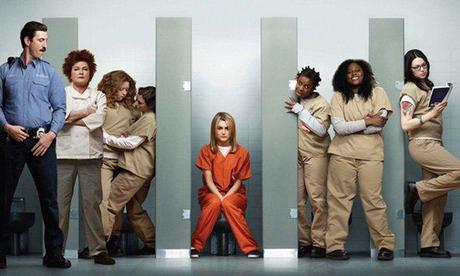 Amongst the inmates are the aforementioned Alex Vause, Chapman's former lesbian lover and girlfriend who is also in prison for the running of said drug cartel. This gives the series arc a nice backbone for the main character as she struggles to find her place within 'the system' and define her role within her outside life. Her fiancé Larry (Jason Biggs) is on the outside looking in, and struggles with their relationship particularly after learning of Vause's imprisonment (everybody uses last names in prison).
But the real strength of the show is in the way it explores ideas and stories uncommon to mainstream television. Chapman is just the gateway, a method for the audience (and for the predominantly white studio executives) to gain entry to the show. The show isn't really about Chapman and Vause, not really; it's about the women of Litchfield; black, latino, lesbian, immigrant, transgender, poor, suffering from mental illness and suffering from afflictions of the soul. Whilst being the worst prison in America with corruption so institutionalised you start to wonder if the place has ever been inspected. Guards import and deal drugs, neglect prisoner needs, serve out their own ridiculous vendettas, and the prison is generally run with a state of self serving corporate incompetence.
The stories here are real ones, not necessarily in that American prisons really are this awful (although it wouldn't surprise me) but in that each of these woman are just trying to do their best with what life gave them. Each episode gives us a new focus character, their story working as the A-plot to Chapman's B narrative. It makes it so much more than the story of an upper-middle-class white woman struggling with the idea that she'll miss the next iPhone and that maybe prison food won't be up to her usual organic diet standards.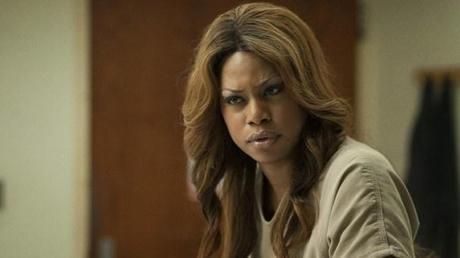 There's Nichols (Natasha Lyonne), the lesbian drug addict and friend to Chapman. Galina "Red" Reznikov (Kate Mulgrew), the Russian prison chef who runs Litchfield's kitchen and runs it well. As well as one can with potato that comes in a sachet anyway. Miss Claudette (Michelle Hurst), Chapman's strict and somewhat menacing bunkmate. Rumour has it she killed a guy but nobody really knows; she's been at Litchfield for as long as anyone can remember. Crazy Eyes (Uzo Aduba) a slightly unhinged, and Chapman obsessed inmate. Sophia (Laverne Cox) the transwoman, coping with both her ongoing transition and the relationship with her wife and son on the outside. Taystee Jefferson (Danielle Brooks) who works in the prison library and dreams of getting out. Daya, (Dascha Polanco), the Latina imprisoned at Litchfield alongside her neglectful mother Aleida. There's Pennsatucky, Poussey, Tricia and Mercy. Boo and Sister Ingalls. Yoga Jones and Morello. Norma and Black Cindy.
These are the stories not told; the stories of black women, hispanic women, transwomen, women of faith both respectful and downright insane. Sophia is the first transgender character in a prison narrative to be played by a legitimate transwoman, and her pre-transition character was played, to superb levels, by Cox' real-life twin brother. Superb.
Although often played for comedic effect, we do eventually feel sorry for Crazy Eyes. We sympathise with the inmates and the neglect they deal with on a daily basis. We feel for Yoga Jones as she details the reason for her incarceration. Through the histories of these women we see the tales so often overlooked in the male dominated mainstream media. It's funny and heartwarming and at times unsettlingly grim.
If you aren't already, watch this show.
Looking for something else to watch? Here's televisions three new serial killers under review.
Got any new or recent series we should be watching? Tell us in the comments, tweet us at @CAricHanley or @HouseofGeekery or just shout them at us if you see us on the street.
*Porn. The rest was porn.