I was surprised to hear this one. Some of the most popular battery powered toothbrushes can actually cause people to chip their teeth! Good Grief! My eight-year-old asked me for one today. He actually has a Sonicare(not mentioned in the report) that needs the brush part replaced. Now I am questioning whether to do that! What do you think?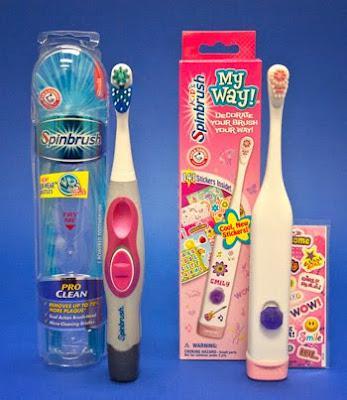 FROM MSNBC:
The U.S. Food and Drug Administration issued a consumer safety update Thursday about a brand of electric toothbrushes that's been found to chip teeth, cut gums and generally wreak havoc with your face.
Injuries reported from use of the battery-powered Spinbrush toothbrush, sold by both Arm & Hammer and Crest (before 2009), include chipped or broken teeth, cuts to the mouth and gums, injuries to the face and eyes and choking hazards thanks to broken pieces.
According to a consumer safety officer at the FDA, reports indicate that parts of the toothbrush have broken off during use, causing them to be "released into the mouth with great speed, causing broken teeth and presenting a choking hazard."
-NewsAnchorMom Jen