As previously reported, True Blood's Joe Manganiello & Kristin Bauer attended the Logo's NewNowNext Awards recorded last week, where Joe won the "Cause You're Hot Award."
The show premieres tonight, Monday, April 11 at 10/9c on Logo. Look for tweets on-air live during the show (use hashtag #NNNAwards). If you don't get Logo, you can watch the show on LogoTV.com as they live stream the show and host a live chat for fans starting at 10/9c (directly after RuPaul's Drag Race)! Hope to see you there.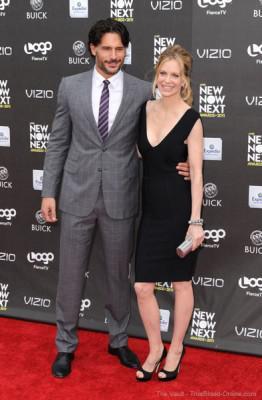 Also appearing at the show are some members of the Backstreet Boys, New Kids on the Block, Adam Lambert, Paula Abdul, Perez Hilton, Lady Gaga and many more stars.
Here's a video interview by LOGO at the event:
Gay Video & Lesbian Movies –
Logo: Fierce TV
When MTV caught up with Joe and Kristin at the Awards, they asked how their characters are dealing with the newest supernatural characters to join the fray.
"Witches cause a lot of trouble," Manganiello said.
"Witches, they're mischievous," Bauer added. "Pesky."
"I don't think vampires or werewolves are too fond of witches," Manganiello continued.
"No," Bauer agreed. "There's some shenanigans."
Clearly there is not much the stars can reveal, so MTV went to an easier topic: How much are people naked in this season? Who is able to keep his/her clothes on?
Bauer perked up at that question, while Manganiello laughed nervously. "Joe? Joe?" Bauer teased, indicating he might be better equipped to answer.
"A lot naked," Manganiello admitted, implying fans will be seeing a lot more of the husky werewolf this season. "I'll say a lot. A lot. A lot."
And despite the fact that Manganiello seemed a little sheepish about his lack of wardrobe, we mentioned that plenty of fans will be delighted to hear the news.
"Yes, and that's probably why I'm nominated for this award," he said, speaking of Logo honoring him with the Because You're Hot honor. "So, I have my lack of wardrobe to thank."
Below is the video from MTV of their talk with Joe and Kristin:
Movie Trailers –
Movies Blog
More photos can be found in the Photo Gallery.
source: LogoTV.com
source: mtv.com