By Susan Duclos
Compare and contrast the chosen themes between pro-life and pro-abortion activists in Texas as abortion activists chant "Hail Satan" against pro-lifers who believe that aborting babies after 20 weeks is murder, as pro-lifers calmly sing Amazing Grace.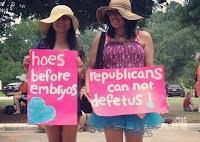 Details
- The abortion battle in Texas was still raging Tuesday as both abortion supporters and pro-life activists flooded the State Capitol to make their voices heard. The Texas House and Senate reconvened briefly for a special session called by Gov.
Rick Perry
. One of the more bizarre tactics used by pro-abortion activists involved chanting "Hail Satan!" to harass a pro-life crowd as they sang "Amazing Grace."
In one captured image of signs held by pro-abortion activists, a child is seen holding a sign that says "If I Wanted Government In My Womb, I would F*** A Senator."
Keeping it classy!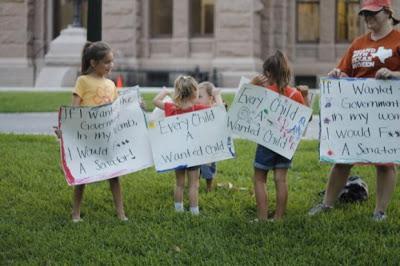 Via TheBlaze
Texas blogger Adam Cahm
was able to capture the "Hail Satan" chant on video. Watch it below: It's been a very interesting day at the Texas State Capitol. Cahnman's Musings hasn't been following the hearing. Instead, we've been participating in the surrounding events," he writes. "LetTexasSpeak has been doing a live broadcast from the rotunda where women have been sharing their abortion related testimonies. The pro-abortion crowd has responded with repeated chants of 'hail Satan.' It's taken us all day to get a video recording.Obviously, it is much more likely that the abortion supporters were chanting "Hail Satan!" to mock pro-lifers rather than actually hailing Lucifer, but anything is possible.
And there was plenty of discussion about "Hail Satan" on Twitter.
Twitchy has the details
.The pro-abortion crowd also brought some really interesting signs to the rally.
[WATCH]
The Texas House State Affairs Committee
approved the ban on abortions after 20 weeks with a vote of 8-3
Wednesday morning, after being called back into a special session following the original attempt by Republican lawmakers to pass the law was derailed by a 12 hour filibuster and an unruly mob preventing a vote by the midnight deadline on the previous attempt.
The full chamber will now take up the bill next week