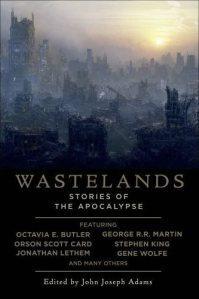 GENERAL INFORMATION  
TITLE: WASTELANDS: STORIES OF THE APOCALYPSE
AUTHOR: VARIOUS
PAGES: 352
PUBLISHER: NIGHT SHADE BOOKS
YEAR: 2008
http://en.wikipedia.org/wiki/Wastelands:_Stories_of_the_Apocalypse
www.johnjosephadams.com/wastelands
This is an e-book I bought from www.kobo.com.
BLURB FROM THE COVER
Famine, Death, War, and Pestilence: The Four Horsemen of the Apocalypse, the harbingers of Armageddon these are our guides through the Wastelands…From the Book of Revelations to The Road Warrior; from A Canticle for Leibowitz to The Road, storytellers have long imagined the end of the world, weaving tales of catastrophe, chaos, and calamity. Gathering together the best post-apocalyptic literature of the last two decades from many of today's most renowned authors of speculative fiction, including George R.R. Martin, Gene Wolfe, Orson Scott Card, Carol Emshwiller, Jonathan Lethem, Octavia E. Butler, and Stephen King, Wastelands explores the scientific, psychological, and philosophical questions of what it means to remain human in the wake of Armageddon.
EXTRACT
I want to tell you about the end of war, the degeneration of mankind, and the death of the Messiah – an epic story, deserving thousands of pages and a whole sheaf of volumes, but you (if there are any 'you' later on to read this) will have to settle for the freeze-dried version. The direct injection works very fast. I figure I've got somewhere between forty-two minutes and two hours, depending on my blood-type. I think it's A, which should give me a little more time, but I'll be god-damned if I can remember for sure. If it turns out to be O, you could be in for a lot of blank pages, my hypothetical friend.
(THE END OF THE WHOLE MESS BY STEPHEN KING)
REVIEW
I thought Wastelands: Stories of the Apocalypse was a great collection of stories. Every story is strong. I think this is one of the very few times when I've read a collection of stories and have enjoyed every one. There wasn't one stinker in Wastelands: Stories of the Apocalypse. Adams has put together an impressive collection.
Like all collections there were stories in Wastelands: Stories of the Apocalypse that stood out, that were a step or two above good and in some cases even higher than really good. Stories that make this collection worth reading.
The first of these stories is The End of the Whole Mess by Stephen King. Adams chooses to open this collection with this story from King's first collection, Night Shift. This is one of my favorite King stories. I've read it at least a dozen times and have seen the TV adaptation in Nightmares & Dreamscapes: From the stories of Stephen King. Suffice to see I was delighted Wastelands: Stories of the Apocalypse opened with such a bang.
The People of Sand and Slag by Paolo Bacigalupi is one of the creepiest stories I've ever read. There were some funny moments when future humans find a real dog and decide to keep it as a pet. In this story the people aren't quite recognisable as human. They can change their appearance at will including growing extra limbs or sprouting blades all over their skin. They are fascinated because the dog can feel pain and can't change its shape. The ending is predictable as there is nowhere else for the story to go but still heart-wrenching.
Bread and Bombs by M Rickert is one of the saddest stories I've ever read. Rickert offers a real gut-wrencher with this one. I didn't really get a sense of the apocalypse from Bread and Bombs and this is more of an alternative history tale. The story is sad enough and the ending completely shocked me. I never saw it coming. I was stunned.
Another brilliant story was Dark, Dark Were The Tunnels by George R R Martin. I've only read one other piece by Martin, The Skin Trade and it astounded me so I expected good things from this story. Martin didn't disappoint. The concept is simple enough. What if human who had existed in the dark for generations met people from the world above who had weapons and light? Sort of like caveman meets modern man. The results offered in Dark, Dark Were The Tunnels did not disappoint. The ending is not a surprise but still cut to the bone.
When Sysadmins Ruled the Earth by Cory Doctorow is one of my favourites in this collection. I just loved what Doctorow offered with this story. This is a brilliant, original story. Some of the computer jargon at first was lost on me but it didn't take me long to get on board. I thought this was a very clever, absorbing piece. I loved it.
Artie's Angels by Catherine Wells is also one of my favourites. What a brilliant little story. I liked the sense of hope there is throughout the story thanks to Artie and his band of angels and what they offer people just struggling to make it through the day. The ending was also a tear jerker. Hats off to Wells for offering a piece of very different post-apocalypse fiction.
These were the stories that really stood out as I read Wastelands: Stories of the Apocalypse. The other stories were all very well written and enjoyable. The above stories hit the bar a little bit higher.
FINAL THOUGHTS
I am quite a fan of post-apocalyptic fiction. I've read a few novels including The Road by Cormac McCarthy, Mr Shivers by Robert Jackson Bennett and Stephen King's Dark Tower series. I thought I would enjoy this collection and I wasn't disappointed. I've visited the editor, John Joseph Adams's website. He's been involved in a few collections I want to read.
RATING