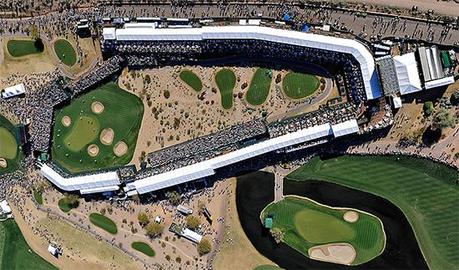 The Waste Management Phoenix Open kicks off tomorrow, and the Golf Channel will be ready to capture the action.  This will also mark the debut of the Golf Channel's 'Spotlight Coverage' which will focus on the three hole stretch from the 15th to 17th at The Stadium Course.  This will allow them to highlight the 16th hole, which is arguably the most exciting hole in golf.  
As Golf Channels John Hawkins put it "As par 3s go, TPC Scottsdale's 16th hole is neither gorgeous nor grueling. It doesn't photograph nearly as well as the seventh at Pebble Beach and it certainly doesn't baffle the world's best players like No. 12 at Augusta National.."  What it does offer is what can only be described as a Colosseum like stadium, which can accommodate up to about 20,000 golf enthusiasts.   
Be sure to watch the live tournament coverage, which will be airing as follows:
Thursday 4-7 p.m. ET (Golf Channel live traditional coverage)
Friday 4-7 p.m. ET (Golf Channel live traditional coverage)
Saturday 1-3 p.m. ET (Golf Channel live lead-in coverage)
Saturday 3-6 p.m. ET (NBC live traditional coverage)
Saturday 3-5 p.m. ET (Golf Channel live Spotlight coverage)
Sunday 1-3 p.m. ET (Golf Channel live lead-in coverage)
Sunday 3-6 p.m. ET (NBC live traditional coverage)
Sunday 3-5 p.m. ET (Golf Channel live Spotlight coverage) 
Here's a little more info on the spotlight coverage and what to expect...
ORLANDO, Fla. (Jan. 29, 2013) – While NBC delivers its award-winning coverage of the PGA TOUR at this week's Waste Management Phoenix Open, Golf Channel also will debut its 2013 "Spotlight" coverage at the tournament, featuring coverage of a three-hole stretch at TPC Scottsdale, which includes one of the most exciting settings in all of sports – the famous par-3, 16th hole. 
While NBC is on the air live from 3-6 p.m. ET this weekend with traditional coverage, Golf Channel also will be on the air live with its Spotlightcoverage, but focusing only on the challenging stretch that encompasses the 15th, 16th and 17th holes. The 15th hole is a par 5 that can be reached in two, making eagle chances well within the realm of possibility. The 16th hole is the famous par 3 – known as "The Coliseum" – which is completely surrounded by as many as 20,000 rowdy spectators and creating a raucous atmosphere akin to a football game. And, the par 4 17th hole can be reached from the tee, but several greenside hazards pose interesting choices for gambling pros. Golf Channel'sSpotlight coverage will conclude at 5 p.m. ET each day, when viewers will be directed to the final hour of NBC's third- and final-round coverage.
"The NBC/Golf Channel partnership is creating new and innovative ways to cover the sport, and bringing more people to the game," said Golf Channel President Mike McCarley. "Golf Channel's Spotlight coverage has proven to be a coup for golf fans looking to get further inside the ropes at signature stretches of tournament venues – like TPC Scottsdale's 16th hole, which features an atmosphere unlike anything else on the PGA TOUR. While NBC will continue to feature traditional coverage, Golf Channel's Spotlight coverage provides a unique, but complementary, viewing experience showcasing the action from notable holes."
The Spotlight coverage on-air team includes Brian Hammons handling play-by-play, Curt Byrum as lead analyst, Phil Parkin as the 16th hole tower analyst, and Jerry Foltz and Scott McCarron reporting from the golf course. NBC's production, which will be overseen by Emmy award-winning producer Tommy Roy will operate side-by-side with Golf Channel's Spotlight production unit led by producer Keith Hirshland.
"The Coliseum" at TPC Scottsdale 16th Hole:
Eight cameras will be dedicated to coverage of the 16th hole, capturing everything from golf shots to the colorful characters that completely surround the par 3. Spotlight coverage cameras will stay with players longer than typical television coverage, providing viewers a chance to see players' reactions to shots, as well as experiencing the cheers – or sometimes jeers – players get from the amped up crowd as they walk the fairways. A camera positioned 120 feet in the air above the hole, as well as a Met Life blimp also will provide interesting vistas.
"Landing Zone" Graphic Predictions:
A new graphic technology titled "Landing Zone" will be featured during the Spotlight coverage, which will predict – while a ball is in flight – where it will land on or off the green. Viewers will see a split screen with one section showing ball flight while the other shows graphic representations circles on the green pointing to where the technology predicts the ball will land.
17th Hole "Speed Shot" Coverage:
As players attempt to drive the green from the 17th hole, a nearly 40-foot camera tower built on the hillside to the right of the fairway will provide "speed shot" coverage of a ball on its way to the green. The height of the camera position also will allow the viewer to be able to tell if a ball driven slightly left of the fairway will end up in the water or hang up in the rough staying out of the hazard.
-NBC Sports Group-