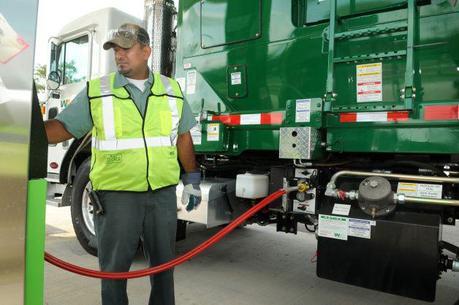 Servando Rosales, a 14-year veteran of Waste Management, refuels his garbage truck at a fast-fill compressed natural gas station that will be available to the public for refueling of consumer vehicles.
The iconic rumbling garbage truck may have met its match: natural gas.
Waste Management on Friday will announce it is pushing forward on a nationwide plan to convert all of its 18,342 trucks from loud and smoky diesel engines to quieter and cleaner compressed natural gas-powered machines. The latest destination for the company's CNG trucks will be the Houston area, starting at a facility in Conroe where 80 trucks will be able to refuel with gas overnight.
"The economics and payback of natural gas are so strong that it dwarfs any other technology," said Eric Woods, vice president of fleet and logistics for Waste Management.