shooting at neighbors' homes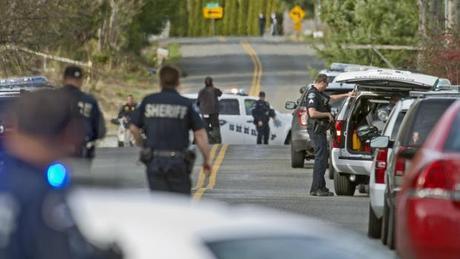 Pierce County sheriff's deputies secure a scene on 54th Avenue Northeast in the Fife Heights neighborhood in Tacoma, Wash., where shots were fired Tuesday, March 26, 2013. Police said that the shooter is holed up in a house. 

/

AP Photo/The News Tribune, Peter Haley
Local news reports
A Pierce County sheriff's spokesman says a 67-year-old man has been arrested after an hours-long standoff with officers who responded to reports of shots being fired at homes in a northeast Tacoma, Wash., neighborhood.

Troyer said the man would be booked into jail on multiple counts.

Authorities are not sure yet what led to Tuesday's gunfire. Deputies found both a car and a house with bullet holes but are not sure how many rounds were fired. Callers who dialed 911 described a man walking through the neighborhood, shooting at homes. The man later retreated to his own home as SWAT officers arrived.
Lawful gun owner? Concealed carry permit holder? What do you think?