Was Meghan Markle lying when she said 'didn't know much' about Prince Harry?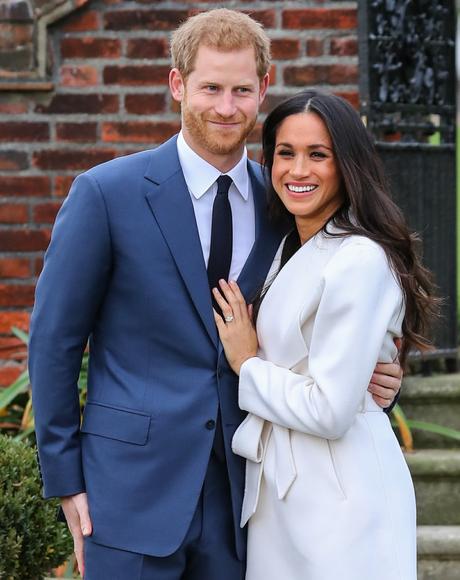 Meghan Markle and Prince Harry's engagement interview was only 20 minutes long. In those 20 minutes, most of us found Meghan utterly charming. The biggest complaint I had – and this was just a minor thing – is that seemed a little bit too gosh-who-me, in an actress-y sort of way, like Taylor Swift when she wins yet another award. One of those moments came when Meghan talked about being set up on a blind date by a mutual friend:
"Yes, it was definitely a set up. (laughs) It was a blind date. And it's so interesting because we talk about it and now and even then, I, you know, because I'm from the States, you don't grow up with the same understanding of the royal family and so while I now understand very clearly, there's a global interest there. I didn't know much about him, and so the only thing that I had asked her when she said that she wanted to set us up, was, I had one question. I said, "Well is he nice?" Cause if he wasn't kind, it just didn't, it didn't seem like it would make sense and so, we went and had a, met for a drink, and then I think very quickly into that we said, "Well what are we doing tomorrow? We should meet again."
[Via ABC News]
Some people side-eyed the "I didn't know much about him" comment. I thought I understood what she meant though – she clearly knew who Prince Harry was, and anyone who was alive in the 1990s (Meghan would have been a teenager) remembers Princess Diana's popularity, and everything that happened after Diana's death. But she didn't feel like she knew anything about who he really is beyond the images. Or was that a lie?!?! One of Meghan's childhood friends claims that Meghan was always obsessed with royalty:
Meghan Markle "was always fascinated by the royal family'' — and hopes "to be Princess Diana 2.0,'' a close childhood friend said Tuesday. Markle coyly claimed while announcing her engagement with Prince Harry on Monday that she "didn't know much'' about her blue-blood fiancé or his royal family before she met him, but old pal Ninaki Priddy said the pair traveled to London as teens — and the American actress was obsessed by the royals, the Daily Mail said.
"I'm not shocked at all'' by Markle's engagement to Harry, Priddy told the Mail. "It's like she has been planning this all her life. She gets exactly what she wants, and Harry has fallen for her play. She was always fascinated by the royal family. She wants to be Princess Diana 2.0. She will play her role ably. But my advice to him is to tread cautiously,'' Priddy said.
On the then-15-year-old girls' trip to London, they posed for one photo sitting on a metal railing and beaming in front of Buckingham Palace.
[From Page Six]
For the love of God. I'm a 30-something woman and all of you can attest to the fact that I've always been interested in royalty too. It's something a lot of women grow up with, first the Disney princesses and then the soap opera dynamics of royalty, because royal families were the original reality shows for the peasants. There are millions of girls and women who fantasize about becoming princesses and enjoy talking about the hot eligible princes. My guess is that Meghan was no different – she had, and perhaps still has princess fantasies. Did she need to play dumb about Harry in the interview? No. But I still maintain that she was just talking about how she didn't know much about him beyond the image, the tabloid soap opera.
Photos courtesy of WENN, PCN.
Source: Was Meghan Markle lying when she said 'didn't know much' about Prince Harry?
3 total views, 3 views today