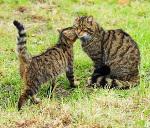 A recent study conducted by the Scottish Wildcat Association (SWA) has concluded that Scottish wildcats are at risk from extinction from the wild within the next few months if the situation continues as it is.
After reviewing 2,000 records of eyewitness reports and camera trap sightings, along with the number of individuals that are killed on the roads, it has been estimated that there could be as few as 35 wildcats left in the wild.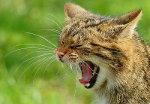 This estimated population number is drastically lower than previous estimates and indicates that the species is at great risk from imminent extinction from the wild, and although other estimates range as high as 400 individuals remaining, the situation is critical.
Scottish wildcats are most under threat from disease and also the fact that they have bred with both domestic and feral cats which has led to an increasing number of hybrid wildcats and a much lower pure-bred population number.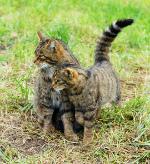 Scientists and conservationists are currently working together to try and find a solution to this devastating problem which includes the possible relocation of pure-bred wildcats to areas that pose less of a risk to the species. However, if the estimated number of 35 individuals remaining is correct, it means that Scottish wildcats are one of the most critically endangered mammals in the world.
Please click here to view the original images.