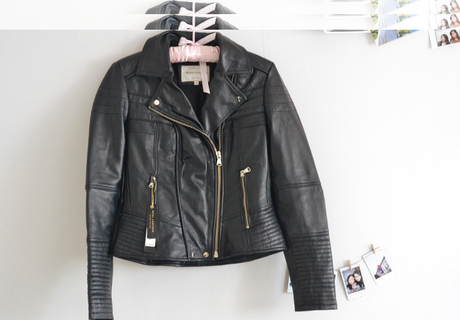 Black leather jacket, £100, River Island.
Hello, my name is Michelle and I (previously) have never owned a leather jacket.
… I know right.
One part biker and another part omg-it's-a-wardrobe-essential-yah, owning your first leather jacket - like a really perfect one - is one of the sartorial rites of passage that I seemingly missed out on. Could I even call myself a Brit girl?!
I discovered my perfect leather jacket approximately 7 months ago, when shopping the full priced new season stock at Zara during the winter sale. In true Michelle style, I dithered, went back and it was gone without a trace. And since then, I've wagered a war against the High Street to find something similar. Continuing my River Island love affair (well documented here, here and here), I came across this one (£100) a fortnight ago and it has barely left my side.
My Style Equations:
Leather Jacket + White Broderie Lace Dress + Brogues
Leather Jacket + Camisole + Shorts + Short Wellies
Leather Jacket + Camisole + Jeans + Glitter Tipped Ballerina Shoes
Leather Jacket + Denim Smock Dress + Mid-top Converse
Leather Jacket + T-Shirt + Black Ripped Jeans + Heels
Leather Jacket + T-Shirt + Skater Skirt + Tan Sandals
Purchase = justified. Happy Friday all!