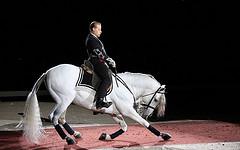 photo : L Wilson
This Sunday is Mother's Day – a time to celebrate women who in the early days of the 20th century made a stance against war; women who strive to do their best for their families; and the wonderful horses that tie them all together.
Mother's Day
If you live in countries like Great Britain, Russia, Norway or Thailand, you're probably thinking the date for Mother's day is wrong. For your country, maybe it is – but in many of the 46 countries around the globe that celebrate Mother's day, it isn't!
In Austria – like America, Canada, India and Japan to name a few – the second Sunday in May is when motherhood is celebrated. Mother's day is quite distinct from 'Mothering Sunday', which in the Christian church falls within the period of Lent and is associated with the ancient spring festival to celebrate Brigid, the Celtic goddess of inspiration and healing. In Catholic countries, reverence for the Virgin Mary is more central to Mother's day celebrations.
Mother's day is a relatively 'modern' concept, with its roots in the anti-war movement of the 19th century, rather than ancient history and mythology.
War and Women
In 1872 Julia Ward Howe – an American activist and lyricist of the 'Battle Hymn of the Republic', which is widely recognised as the patriotic song of America – appealed to women to rise against war and initiated a 'Mother's Peace Day'. Many years later, Anna Jarvis – another American – lobbied for an official Mother's Day holiday, which stemmed from her desire to fulfill a wish of her own mother (to see a commemorative day for mothers).
The idea took hold and in 1914 President Woodrow Wilson (no relative of mine!) signed a Resolution designating the second Sunday in May as Mother's Day. Many other countries also adopted this date.
Wonderful Horses
The mother loves her child most divinely, not when she surrounds him with comfort and anticipates his wants, but when she resolutely holds him to the highest standards and is content with nothing less than his best.   –  Hamilton Wright
Nowhere is this seen more clearly than at the Piber Federal Stud in Steiermark, where young colts are raised to the highest standards to perform at the Spanische Hofreitschule (Spanish Riding School) in Vienna. The wonderful Lipizzan horses perform Haute École (High School) dressage, which is characterised by movements above ground that originate in in the training and preparation for battle of cavalries from ancient times. The movements take years for horse and rider to master.
Mother's Day Gala
Just as Mother's Day has become a tradition across the globe, so Piber Federal Stud has its own celebratory extravaganza – the marvelous Mother's Day Gala (this year May12th from 12:00).
Broodmares – the equine equivalent of  Wright's mothers who strive to encourage the very best from their offspring – will be in attendance along with their colts, many of which will be bound in due course for the Spanische Hofreitschule.
There'll be a cavalcade of choreographed carriages to add to the excitement as the 2012 season gets underway. Definitely not an event to be missed if you happen to be lucky enough to be on an Austrian alpine holiday in Styria!