If I can liken to myself to Superman I believe I met Lex Luther on Wednesday.  My nemesis is not a living breathing human but instead a living breathing 2½ acre garden!  I donned my cape (only kidding but I like the idea) and with my weapons in hand (secateurs, spade, fork….) waged war.
Now you maybe wondering as to why I have declared war on this garden, it is the War of the Weeds.  Bindweed, ground elder, brambles, couch grass, nettles, creeping buttercup, dandelion…. the list goes on.  It's the first two that have me quaking in my cape especially as the ground elder appears to have been grown as a prize plant in some areas.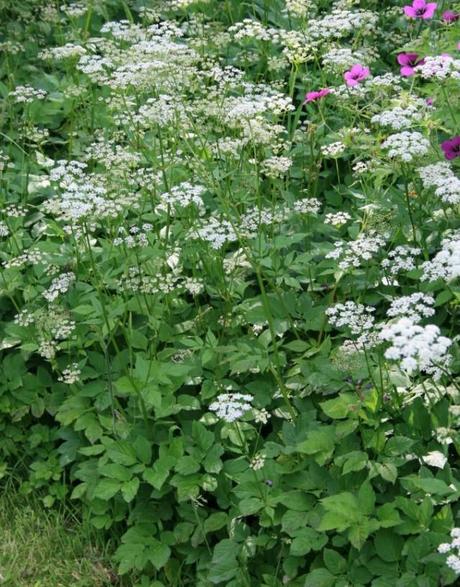 Here it is even looking pretty with it's foamy white flowers, however the plants being smothered by it may beg to differ!  For all those out there with a similar war taking place there is no quick solution for these invasive weeds, it is instead a battle won over years of continued weeding, whether that is by hand, weedkiller or both.  Eventually with plenty of perseverance and patience you will win.
On the flip side this garden is packed full of lots of beautiful herbaceous perennials which are looking just stunning at the moment and it is a buzz with wildlife.  So no matter how many weeds there are I could not help thinking how lucky I am to do what I do in the gorgeous sunshine we had on Wednesday.  Happy gardening!