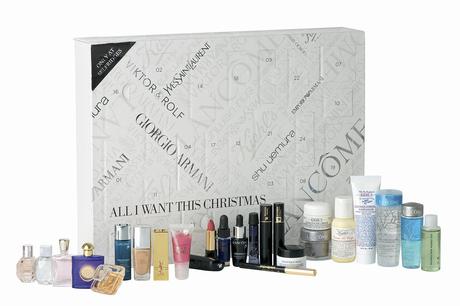 Thank you Selfridges for adding a hint of glamour to our Christmas Countdown!
Before we go any further, let me say this. I have a secret obsession with advent calendars. It started off with Cadburys calendars but over the years my search for the most coveted calendar has taken me from the cheap and cheery isles of Sainsbury's to the more elaborate displays hidden inside Hotel Chocolat. This year however, I have found the ultimate advent calendar and it doesn't even have one chocolate in it!
An advent calendar without chocolate? I haven't been drinking. Selfridges have come up with the most magical concept I have ever seen. Imagine opening up a crisp glossy window to reveal a different cult beauty buy every morning. This concept is fab because instead of waking up to a mini dose of calories each morning you get to boost your beauty collection with mini versions of your favorite products from the hottest brands from the world of beauty.
Here's what's inside:
Kiehl's hand salve
Shu Uemura Cleansing Oil 20ml
Mini Lancome Juicy Tube
Lancome Teint Miracle Foundation
Lancome Hypnôse Drama Mascara 2ml
YSL lipstick
This is just a taste of what you'll find inside the Selfridges beauty calendar. Tell everyone about this shiny advent adventure as you never know who will decide to surprise you!
Christmas Calendar Confession
When it comes to advent calendars, I have a major weakness. My eagerness to get the best one before it goes results in a hefty stock of calendars that are usually demolished before the 1ST of December has even arrived. If you have ever received an advent calendar from me, you probably aren't aware just how much palaver has been involved. The calendar you receive will almost definitely not be the original calendar that I bought with you in mind. It won't even be the one I replaced the original one with after I ate the chocolate from each and every window. This annual farce of eating and replacing is a vicious cycle that I have inherited from my mom. She does the exact same thing every Easter. However, this is another cup of tea altogether. Eating 25 mini portions of your favorite chocolate in one sitting is one thing. Eating 3 Easter eggs and the 9 twirls that were hidden inside is quite another. (Sorry mum)
At £80 a pop, I didn't think I could justify splashing out on the Selfridges calendar this year but it's probably cheaper than eating and replacing the chocolately versions and did I mention that it's calorie free?
Will you be surprising someone with the Selfridges advent calendar or keeping it all to yourself?