If you've dabbled in a few rounds of golf, or if you've never played but have friends, family or a partner who is an avid golfer, you might be seriously thinking about getting into the sport. And, there are plenty of reasons to try out this "sport that will last you a lifetime"...if you're truly interested.
Golf is a uniquely flexible sport – you can play a few holes or stretch out the fun over the whole day.
Golf can be a social experience with a group of friends, or a chance to get a few hours by yourself on the course trying to beat your best. It's a sport that can be enjoyed by young and old, men and women, in any level of competition. And finally, there's a certain inexpressible joy in experiencing the rolling countryside, the song of birds and the clunk of a neatly aimed putt.
Golf is not that hard to get into and to appreciate. Here are three tips to help anyone to get started:
1. Find a Golf Course: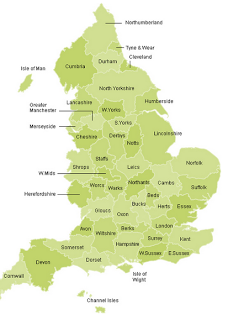 There are nearly two thousand golf courses in England (with the number of golf courses worldwide in 2008 at over 35,000) and you're bound to know one in your area. If you're interested, you can find a taster session near you – many are free to try and you get equipment provided as well.
Once you think that golf is the sport for you, why not book a few lessons: there's no better way to discover the rules, etiquette and skills required to become a talented golfer than to have a qualified instructor show you the ropes. Depending on your preferences and comfort level, you can book a one-to-one session or learn as part of a group.
If there's not a conveniently-located course near you, or if you don't have the time initially to practice as often as you'd like, you can try visiting a pitch-and-putt or driving range to practice your skills. Super-twilight golf is also a fun way to play a few holes without having to struggle through a four-plus hour round.
2. Get The Equipment!
At some point, if you're even half-way serious about playing golf, you'll want to purchase your own set of clubs. This is a big undertaking, so don't rush into it! Ask your instructor for advice on the best clubs to suit you, book yourself in for a an in-depth club fitting, or, at the very least, see what the staff at your local golf store can do to help you find clubs which are forgiving and right for your game. You are allowed fourteen golf clubs in your bag but try to pick the ones that work best for you.
Spend according to your enthusiasm. If you've become a regular player, you'll just end up frustrated if you don't go for the best quality clubs you can afford – conversely, if you only get to go a few times a year, it won't hurt to save money on a second-hand pair of clubs if you don't want to stretch.
3. Dress to Impress!
Golf Clothing should blend fashion-forward style with comfort.
When you play your first few rounds, all you really need is something flexible and comfortable, but as you get more serious as a golfer it's important to pick out the right clothing. You can layer your clothing to ensure you're able to adapt to all conditions, stripping down to a shirt for warm weather or donning a waterproof jacket in more inclement conditions.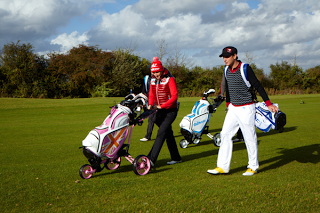 Choosing a few good pairs of golf trousers and shorts are essential too, combining protection from the elements, comfort throughout the course and unrestrained mobility through the swing. Plus, of course, for the fashion-conscious, golf clothes can be a whole new avenue of expression, with styles that change from year to year.
Thanks to Bunker Mentality for these Golf Tips for Beginners.
Like Bunker Mentality Golf Modern British Golf Wear on Facebook and on Twitter @BunkerNews
photo credits: GetIntoGolf.org, Bunker-Mentality.com
Disclosure: This is a "sponsored post." The company who sponsored it compensated me via a cash payment, gift, or something else of value to write it. Regardless, I only recommend products or services I use personally and believe will be good for my readers. I am disclosing this in accordance with the Federal Trade Commission's 16 CFR, Part 255: "Guides Concerning the Use of Endorsements and Testimonials in Advertising.