Special Guest Post by my dear friend, Kimberly Riggins.
If you are a single lady, unlucky in love, or looking for "that man", listen up.
 Are you someone who looks in the mirror and hates what you see? Are you constantly criticizing your appearance, your body shape, your size? Do you have a hard time accepting a compliment? Are you always asking your friends and family whether or not you look fat? Or if your butt looks too big? Breasts too small? Are you worried that if the guy you are dating sees your cellulite, your kangaroo pouch (also known as your stomach)or gets a glance at your flabby thighs, he will be repulsed and break up with you or leave?
 The good news is you are not alone. Many women suffer from a negative body image. The bad news is that if you don't let those body hang-ups go, it can kill your relationship, even before it starts.
 So, what's my point here?
Well, if you can't love yourself, how can you expect anyone else to? And if you are single and wondering why none of your dates ever go anywhere, having a negative body image may be the reason. It's time to drop it like it's hot!
 Most men want to date or be in a relationship with a confident woman. A woman who can enjoy herself…who is content with her own presence and who is not afraid to be vulnerable and let it all hang out. And when I say let it all hang out, I am talking about those damn insecurities you can't seem to let go of.
 Truth be told…he will bolt if he senses your uncertainty, your lack of confidence. He doesn't want that headache. He wants to have fun and get to know you. Not sift through the shit to find out who you really are.
 So, if you are having trouble snagging a man or keeping one around, it is time to check your self before you wreck your self.
 So what's a girl to do?
1. Learn To Love That Body
 Get naked with it. I am serious. Take those damn clothes off and take stock in your value. Stand in front of that mirror and find some things you love about your naked ass. Peruse every inch until you can appreciate, not only what your body can do for you but each fold, wrinkle, scar, mark or imperfection because that is what makes you magnificently unique and amazingly beautiful.
2. Move and Groove
 "Shake that ass, show them what you got." There is nothing more liberating that moving your body to some killer music. To connect your mind and body in such a way can help you release any adverse feelings you have in your own skin. And it oozes sex appeal. Men love women who are not afraid to move…and don't worry if you are not a good dancer…they don't care. 
3. Find Your Inner Sexy Vixen
 Ladies, you have one. If she's been hiding, it is time to let her out to play. Entice her. Care for her. Give her a luxurious bath, followed by sweet smelling lotion. Drape her with silk lingerie. Feed her decadent food. Teach her a sensual dance. The key here is to shower her with love so she wants to come out to play.
4. Think Like A Man
Say what? Okay, this one may need some explaining. The deal is simple. When you are having an insecure moment about your body, before you let it affect your night out with your man…think about how "he" would look at your body or the part you seem to be consumed with. I guarantee you that if you are worried that your man is going to be repulsed by the cellulite on the back of your thighs in your mini skirt or your less than toned abs…think again.
He is looking at you with x-ray glasses, envisioning what you would look like without anything on or at least thinking about what undergarments you are wearing beneath those clothes. Men do not sweat the small stuff. They do not dwell on those small imperfections that you can't stop staring at. They see beauty in all flesh and find any woman who has confidence sexy as hell.
I promise you this…if you stand naked in front of any man…he won't be noticing your cellulite…he is going to so damn happy you are standing there naked at all.
 That's it ladies. If you want a hot, lasting beautiful relationship with a man, let go of those insecurities. Drop those body hang-ups. Show up as the confident, sexy woman you already are.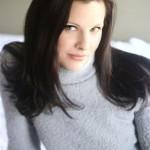 Kimberly Riggins is the creator of The Art of Eating Chocolate Naked. Her mission is to help all women learn how to nourish their bellies, love their bodies and accept them selves. She is also passionate about inspiring them to dig deeper into their soul and let their fun-loving, sensual, sexy self be unleashed for the entire world to see. To learn more about Kimberly and her services, visit kimberlyriggins.com.