Wanderlust
2016 started in January and is a year long art journaling adventure
It is the first time I have followed an online year long course and I am loving it! We are taken through stages and steps to various styles of mixed media art journaling, as art journaling is one of those crafts that cannot be 'right' or 'wrong' it is perfect for absolute beginners or experts.
Jamie Avery produces some excellent pdf downloads offering information on pens, pencils, paints, mediums etc. these are a bit of a bible on what's what and what's not.
What I particularly like is that at no time do you feel under pressure to go out and buy new art supplies, there are no links to any shops only discount codes (from sponsors) should you wish to make purchases.
Below are a few pages of my journey so far.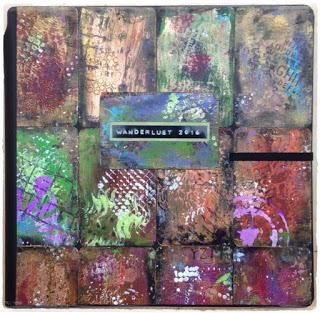 Here I have used an 8" x 8" black Dylusions journal and covered it front and back using playing cards I made with Seth Apter.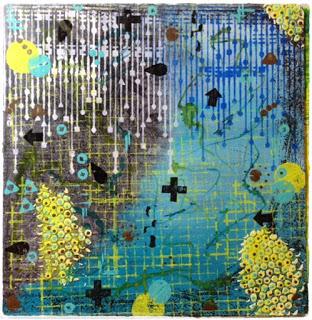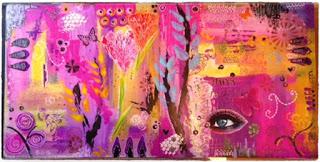 Looking at these photographs I think I have added bits since taking these pics which is something I like very much, pages 'evolve' overtime until you feel you have finished.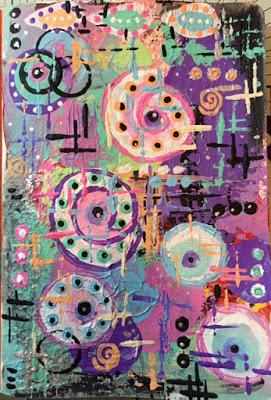 The above page is in my tiny journal with pages 
approx 4" x 6".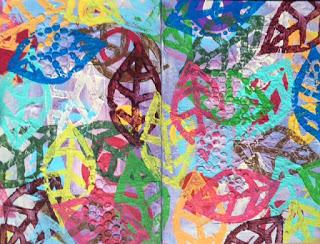 Above is double page of my tiny journal.
Every other week we are given 'book prompts' which are there to inspire us, it is very interesting to see the differences between everyone's pages given that we all use the same prompt.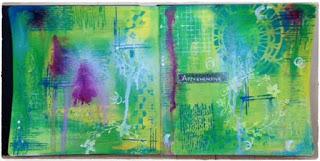 The above double page was the first 'prompt' which was choose a word which describes how you feel today.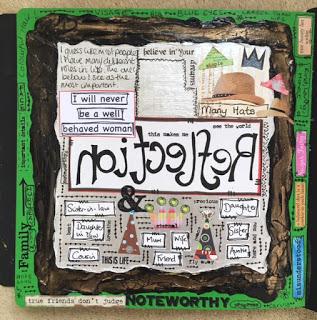 Above is prompt #5 which was 'What do I see when I look in the mirror'
I will post more pages from my journey throughout the year.