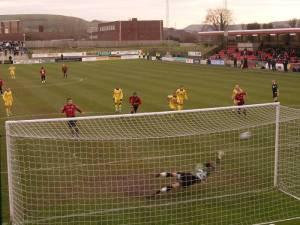 This week marks an important anniversary in my life.  Five years ago, on the 22nd November, I attended my first ever game at The Dripping Pan.  Lewes were taking on Grays Athletic in their ill-fated single season in the Conference Premier.  I'd never really paid any attention to the club and it took an email out of the blue from Danny Last which invited me to sample some of the fine hospitality the town, and more importantly, the club had to offer.  These were the days when Lewes were still to hit rock bottom both on and off the pitch.
In that first season I was an irregular visitor at the Pan, watching them fall out of the Conference Premier with a bang.  The following season I gave up my West Ham season ticket and started going to the odd away game too.  By year three I had my first ever Season Ticket and when the time came, became a life member of the club.  The rest, as they say is history.  I still think I have seen us lose more times than we have won at The Pan, but that ratio is slowly changing.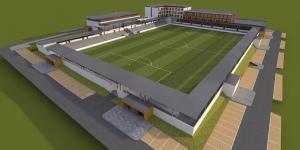 Five years on and what has changed?  Admission to the Pan is actually £1 cheaper.  Attendances are higher than they were back then, and you can enjoy a beer once more on the Jungle.  Of course, Away support is significantly less.  We would be welcoming a dozen or so Cray Wanderers fans tonight rather than hundreds that invaded Lewes from Oxford United, Cambridge United and Eastbourne Borough in that season.  Off the field, of course, the club is in much ruder health.  As financially stable as we could be, with over 800 owners and plans in place for the next phase of our redevelopment starting to take shape.
Five years ago our visitors were on their way to promotion from the Ryman League South.  They were in their tenth season of their groundshare with Bromley FC but had announced plans for a new ground back in Oxford Road, Sidcup.  Five years on and the dream of their own ground is finally starting to gain some momentum.  In the past few weeks numerous groups have lent their support to the proposals for a new stadium on what is essentially wasteland adjacent to the A20 in Sidcup (in TBIR Towers territory).  The next key stage is the dreaded planning permission, which Bromley council are due to rule on in the New Year.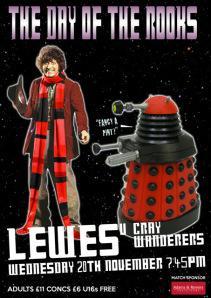 After the disappointment of Saturday's defeat to Lowestoft Town, Lewes would be looking for an immediate response.  On paper this was a banker home win.  Prior to last week Wanderers had played 7, lost 7 away from home, conceding 30 goals and scoring just 4.  And then they went and beat Lowestoft Town at Crown Meadow 2-0.  Nothing like being predictable then!  The change in management team, coupled with some loan players had given the club a lift but what mood would they find the Rooks in?
Lewes 4 Cray Wanderers 1 – The Dripping Pan – Wednesday 20th November 2013
As it turned out Lewes were in a rampant mood.  The game was all over by half-time when Lewes left the field two-nil up and having hit the woodwork no less than three times.  Despite a patched up team that took to the field, and then losing two more players through injury, the result was never in doubt once Steve Brinkhurst had opened the scoring.
His goal led to significant Twitter debate on The Jungle.  With his back to goal, he caught a ball on the volley after the Cray keeper had punched away a corner.  Was it an overhead kick, a bicycle kick, a scissor kick or just an over the shoulder hopeful hoof? Where was the definition of these?  Brinky had one leg on the ground, so the consensus was that ruled out a scissor and the bicycle kick…and he sort of hooked it over his shoulder so the overhead part was out too….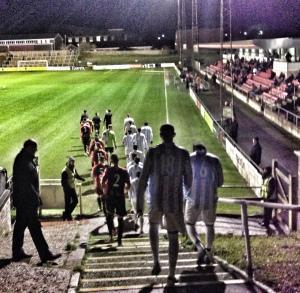 There was to be more controversy in the second half when Jay Lovett's volley was diverted into the net by a Cray defender.  Clear own goal but the dubious goal's committee (i.e ClubSec Kev) said it was Jay's.  His mitigation that "even Footballwebpages.co.uk is showing it was Jay's goal" somehow neglected the fact that he was the one that updated that feed.  Even Jay's later protestations by Twitter haven't swayed me.  OG all the way.
A fourth came with a few minutes to go and we could relax.  Or could we.  Two minute's of injury time were announced and of course Cray then went and scored.  But they weren't ever going to score four times and full time brought high-fives all round and Saturday's defeat to Lowestoft was erased.  The only cloud on the horizon was how many fit players could the Rooks muster for Saturday's top of the table clash with Kingstonian.  Alas, with the Rugby League World Cup semi-finals to attend at Wembley I had to rule myself out of the trip.
So five years of memories at The Pan.  I can't say that on the pitch there had been many high points but off it it has been an adventure.  The future looks so much better today, especially through the haze of a few pints of Harveys.