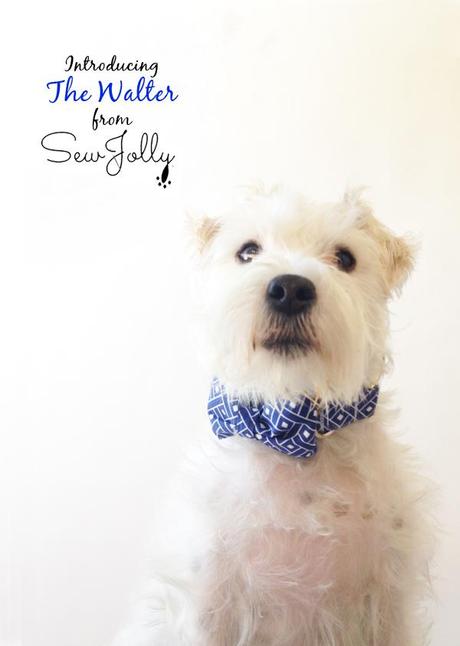 Look at that handsome guy! That is our pride and joy, Walter, who is really excited to model a new collar from Sew Jolly! Sew Jolly collars are hand-made in Colorado and Walter is so honored that the founders, Cat & Kaiti, chose to name a collar + bowtie after him! I love supporting small, local shops and artists and seeing Walter wear his new collar definitely warms my heart. Find The Walter in their online shop: collar, $25, bowtie, s12!
This is Walter's first official venture into modeling—-but he's no rookie when it comes to the camera. Here's his  Printable 2014 Calendar as well as videos of him shutting drawers and picking up laundry. You better believe that a dog that smart knows how to pick good products, so I've listed a few of his favorites below! Scroll to the bottom for product information and links! If you get The Walter or another Sew Jolly collar be sure to share it with us + Sew Jolly on Instagram @SewJollyDogs & @Thyme_is_Honey!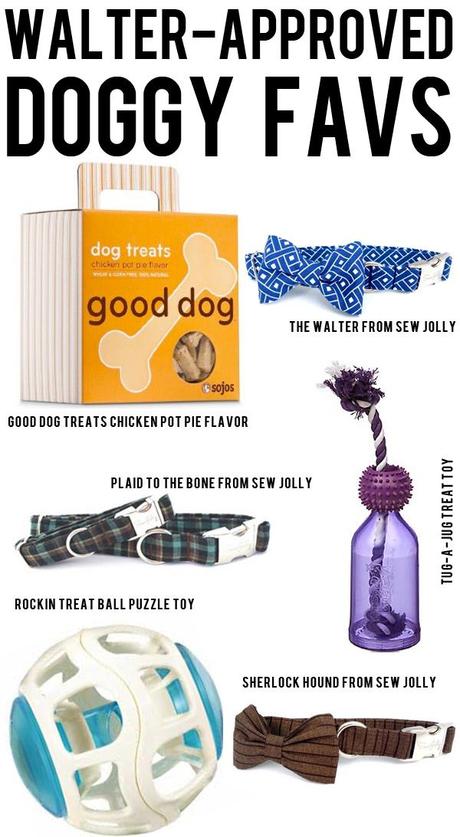 1. Good Dog Chicken Pot Pie Treats ($6.49)- These treats are our secret for teaching Walter most of his tricks. He loves these things and the all-natural, preservative free formula is owner-approved! 2. The Walter Collar ($25) + Bowtie ($12) from Sew Jolly - Of course he loves this! The quality of their collars is unmatched and I adore the fancy closures and attention to detail. Their shop has so many fun designs! 3. Plaid to the Bone Collar from Sew Jolly ($25.00) – Walter is a huge sucker for plaid and he wouldn't mind adding this dapper collar to his collection! 4. Tug a Jug Treat Dispenser ($7.78) – If you own a curious or high-energy dog this toy is a must-have. Walter has had one since he was a pup, but even as a 2.5 year old he still uses it every day! Sometimes we put his entire meal in it to slow him down and make him work for his food. It's a great way to engage your pet! 5. Rockin Treat Ball Puzzle Toy ($9.96)- Another great toy for dogs who are too smart for their own good! This toy seems to really challenge Walter and engage him for a long period of time…plus chasing the ball around tires him out! 6. Sherlock Hound Collar ($25) and Bowtie ($12) from Sew Jolly – this design is definitely Walter-approved and I think it'd look great on him when he's posing as a professor.