These days, I am exploring ways to eat more healthily.  So far, my experiment was not as successful as I wished for.  I shall blog about my learning journey when I succeed.
Anyway, one such healthy eating was begin to eat bread with non commercial yeast and I am happy to say that we already took a baby step forward.
I am exploring more option for my family to eat sourdough bread but it was not such a welcome in this family.  I guess I will need time to convert.
Today, I tried a "softer" version by adding fruits and nuts to it.  Let's hope this Walnut and Raisin Bread will be more acceptable.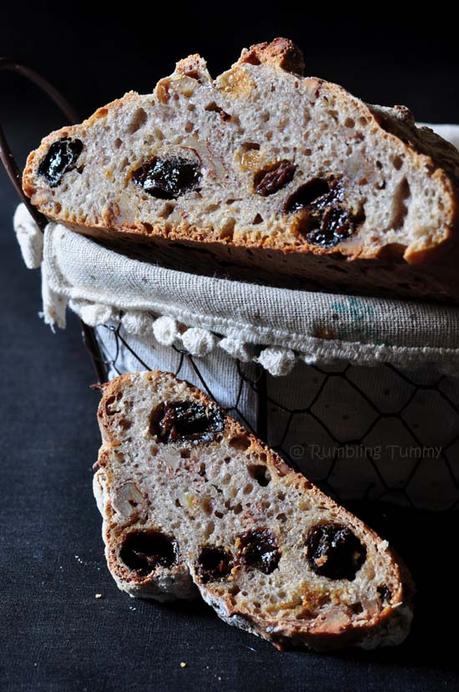 Findings: This dough is extremely wet and I had a hard time shaping it.  In fact, it got stuck to my banneton! Thus, I was not able to score it.  
Other than that, this yield a crusty crust and with the raisin, its sweetness balances off the taste much better.  I will need to work on handling the wet dough though.
What you need:
100g natural yeast starter
170g water
5g salt
60g honey
40g rye flour
80g toasted walnut, chopped
80g raisins, soak in water until soft.  Drained.
210g bread flour
Method:
In a mixing bowl, mix natural yeast starter with water until dissolved.
Mix in salt and honey.
Stir in rye flour until well combined.
Add in walnut and raisins until incorporated.
Add in bread flour and mix till no lumps.
Cover and let it proof until double in size.
Chill in fridge overnight.
Flour work area and turn the dough out.  Sprinkle the dough with a little flour and punch down.
Roll out the dough and fold into thirds.
Repeat the process from the longer side.  
Shape into oval and seal the edges.
Place into a well floured battonne and cover.
Let it proof until double in size (approx 2 - 3 hours)
30 mins before proofing time, preheat oven with a baking stone to 220°C  
Turn the dough out onto the baking sheet, score the dough and slide the it onto the baking stone.  
Bake for 15 mins and lower the temperature to 180°C  and bake for another 20 mins or until golden brown. 
Leave to cool on rack. 

Have a good weekend.
If you have enjoyed this post by
Rumbling Tummy
, be sure to follow this Rumbling Tummy on
Facebook
, Instagram,
Pinterest
, Twitter and
Google+
.