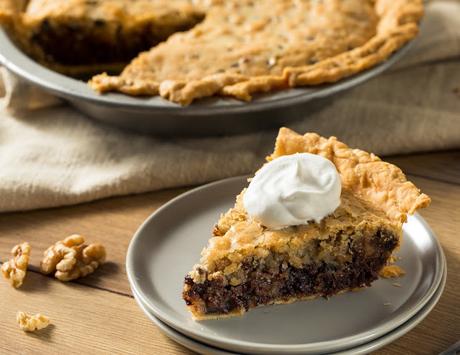 I think one of my favorite all time nuts has to be walnuts. This is a love I share with my father.  I love them raw, toasted, baked into things, and . . .  like my father, I adore them combined with the flavor of Maple.  Both of us love, Love, LOVE Maple Walnut Ice Cream! 
Its been 20 years since I have eaten Maple Walnut Ice Cream.  Maybe I need to dust off my ice cream maker and make me some!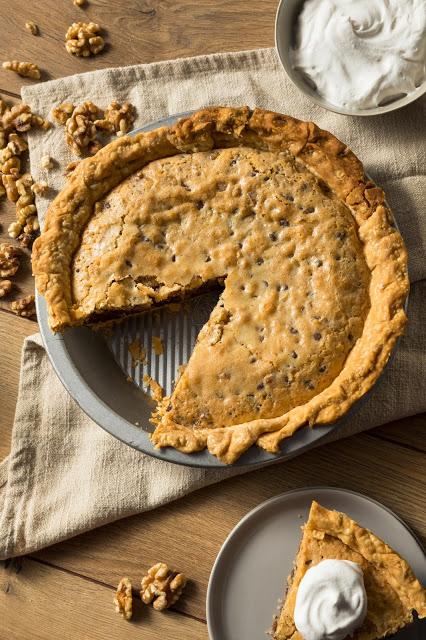 I also love LOVE walnuts in cakes such a
Iced Coffee And Walnut Cake
, or in squares.  My
Walnut Meringue Bars
are a favorite of mine that I have been making since my children were very small. The original recipe comes from The Fanny Farmer Cooking School Cookbook. 
Another favorite of course is this Walnut and Chocolate Pie recipe I am sharing with you today.  It is kind of like a large butter tart, but filled with semi-sweet chocolate and toasted walnuts.  You know how much we Canadians love our butter tarts, so you will know how much I love LOVE this simple pie. 
You will need one nine inch unbaked pie crust. I highly recommend my butter and lard pastry recipe. It makes two crusts, but you can always freeze a round for another day. You can
find that recipe here
.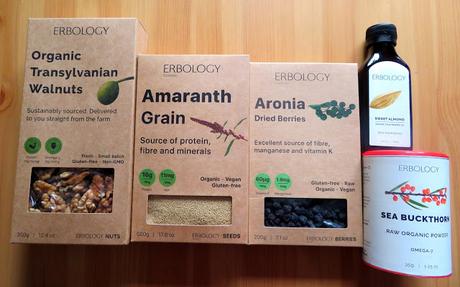 As a food blogger I am afforded the opportunity to try new products and promote new businesses every now and then. I was contacted a while back by
Erbology
and asked if I would like to try some of their products and maybe create a recipe to use some of them in.
If there is one thing I love to do it is to try new things I have never tried before and to try out new products!
Erbology is a London Based business which specialises in providing quality whole foods for healthy living.  It is a business owned by siblings Irina and Victor Turcan and they have all sorts of wonderful products such as snacks, drinks, powders, berries, nuts, oils, etc.  I was most impressed with the products which I was sent.  
I had not heard of some of these things so it was a wonderful opportunity for me to learn something new and to try something new as well.  I have to say I am very impressed with their packaging which is recyclable for the most part, or a least it was with the products I was sent.
Here is a bit about the things I got to try.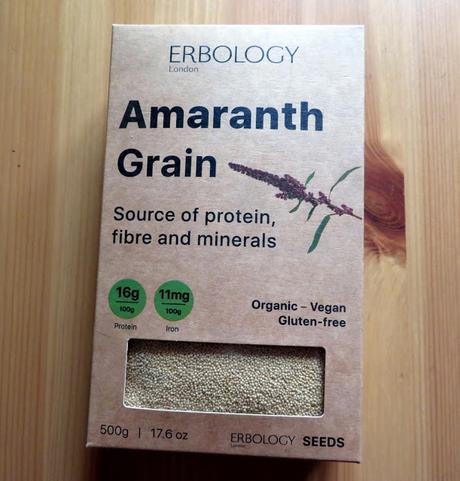 AMARANTH GRAIN 
Amaranth is an ancient, protein packed seed which was a staple in the diet of the Aztec and Mayan Cultures. It has an earthy nutty, flavor and tastes great hot or cold.  You can use it in starters, mains or desserts and it makes a delicious and wholesome porridge.  It can aso be popped like popcorn, roasted or boiled.  Its packed with fiber and all of the essential amino acids, and can be an important part of a healthy balanced diet. 
This was a new one for me.  I had never even heard of Amaranth before.  I have to tell you it makes a most delicious porridge.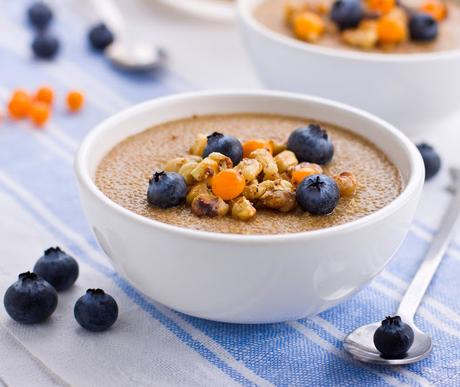 DELICIOUS WAYS TO INCORPORATE AMARANTH INTO YOUR DIET As a breakfast cereal
- Simmered correctly, amaranth develops a delicious sweetness and porridge-like consistency that make it a great breakfast option. Use a ratio of  3 parts to one. (1 1/2 cups liquid to 1/2 cup amaranth will give you a yield of 1 1/2 cups cooked.) Place the amaranth and water or fruit juice in a small saucepan. Bring to the boil, then reduce heat and simmer, uncovered, until water is absorbed. This should take about 20 minutes. Do keep a close eye on it towards the end. Serve immediately, as it will turn gummy and congeal if overcooked or left to sit. You can add fruit, nuts, cinnamon, and honey or sugar to serve. I like date syrup.
Popped
- You can toast a tablespoon of amaranth seeds a time in a covered hot, dry skillet just l ike making popcorn. Continually shake or stir until the seeds pop. Popped these nutritious seeds work perfectly when enjoyed as a snack. You can also use the popped seeds to top soups, salads, and vegetable dishes.
Combined with other grains
-  Amaranth is wonderful combined and cooked together with another grain, such as brown rice.  It adds a nutty sweetness. Use a ratio of 1/4 cup amaranth to 3/4 cup other grain and cook as per usual.
Added to soups and stews
- Amaranth's gelatinous qualities make it perfect for use in thickening soups and stews. You will need no more than a few tablespoons which you can add while the soup is cooking.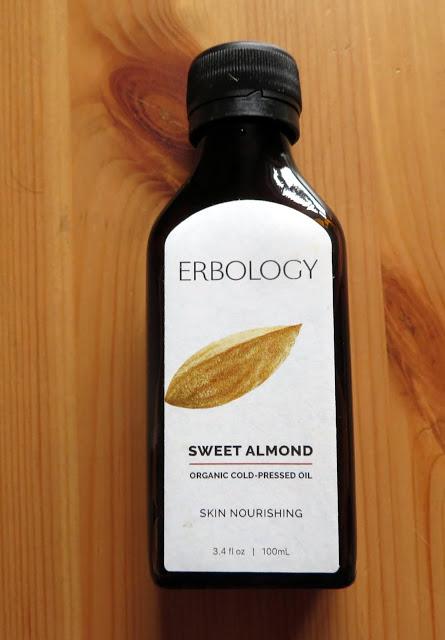 SWEET ALMOND OIL
, organic cold-pressed oil 
Almond oil nourishes your body and skin with healthy fats, vitamins and phytonutrients. Enjoy its light nutty flavor in sweet and savoury dishes or apply a small amount to the skin at night. Source of vitamin E and vitamin A that help your body fight free radicals.
This oil is cold-pressed from unpasteurised Italian almonds  and comes in a recyclable glass bottle.
I had never heard of Sweet Almond Oil before either.  It smells amazing. I suffer from dry skin and exema and I have been applying some to my worst spots each night when I go to bed.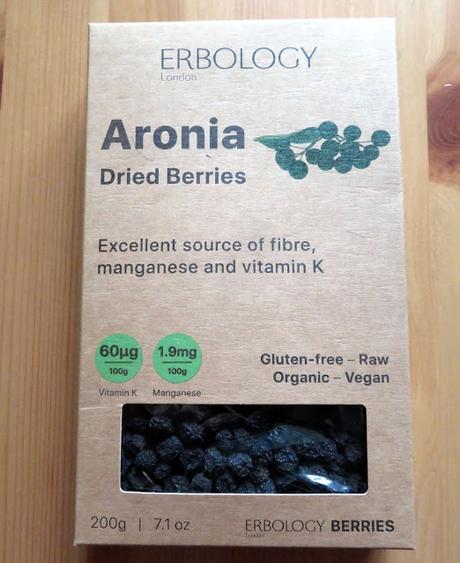 DRIED ARONIA BERRIES  

Aronia berries are gently sweet and tart, ideal as a snack or topping for your salad, smoothie or yoghurt. They are a fabulous source of vitamin C and anthocyanins that can help protect your body from free radicals. They are also rich in manganese and vitamin K  and high in fibre 
Another something new for me.  These berries are not overly sweet, but quite moreish. I have been enjoying them with my granola and yogurt in the mornings and have added some to my bi-weekly smoothies with great success!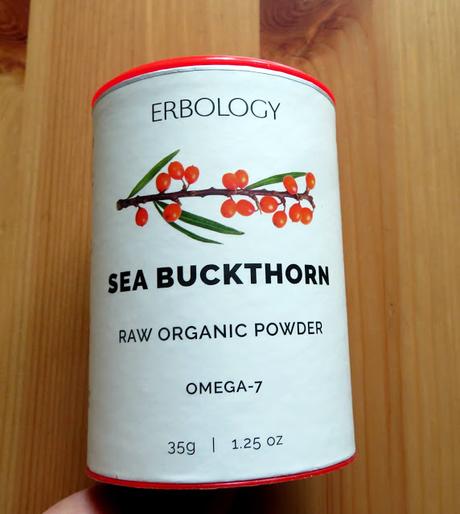 RAW ORGANIC SEA BUCKTHORN POWDER  
Mildly tangy and exceptionally nutritious, sea buckthorn powder is a source of rare omega-7, beta-carotene and phytonutrients that work together to support your immunity, mucosa function and skin health.
It is sustainably grown by small farmers in Eastern Europe  and produced in small batches. Delicious  sprinkled over salad, soup or yoghur. I like to add some to my morning smoothies.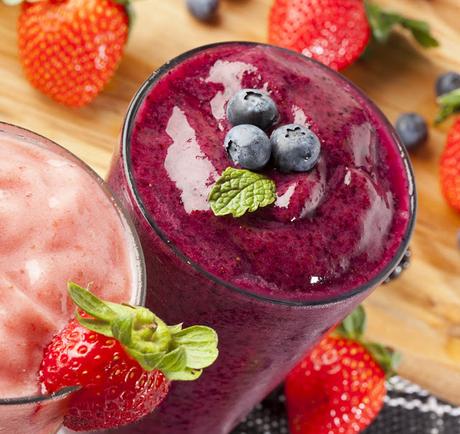 Smoothies make the perfect portable breakfast.  They go together quickly and can be made with a variety of different fruits. I like to add some sliced banana to give my smoothies a nice creaminess. 
I always use regular milk, but you can use almond or oat milks, soy milk, etc.  You can even leave out the milk altogether and use fruit juice.  They are a fab way to get your days off to a great start!  
Berry Smoothies
Print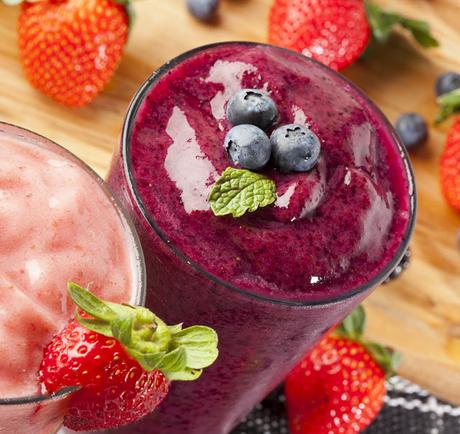 Yield: 1
Author:
Marie Rayner
prep time: 5 Min
total time: 5 Min
Delicious and easy to make!
Ingredients:
1/2 cup each of frozen sliced banana
1/2 cup  each of frozen blueberries and raspberries
1/4 cup of frozen strawberries
1 cup (240ml) milk of your choice (soy, almond, regular, etc.)
2 TBS liquid honey
1 tsp sea buckthorn powder
Instructions:
Place all of the  ingredients into a smooth maker or high power blender.  Blitz until smooth. Pour into a glass and enjoy.
notes:
You can vary the berries used in these smoothies.  A tablespoon of toasted mixed seeds or oats is another healthy addition.
Did you make this recipe?
Tag @marierayner5530 on instagram and hashtag it #EnglishKitchenCreated using
The Recipes Generator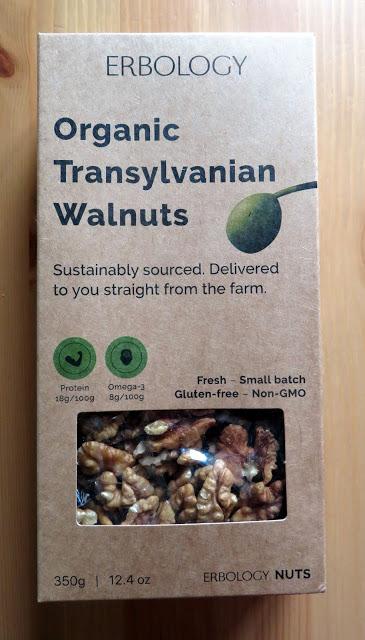 ORGANIC TRANSYLVANIAN WALNUTS
These organic raw walnuts are sustainably sourced from the heart of Transylvania and delivered to you straight from the farm. Walnuts are a valuable source of protein. They are rich in omega-3 unsaturated fatty acids  and high in magnesium, vitamin B-6 and ellagic acid.
These are lovely eaten out of hand, but I wanted to showcase them with a fabulous recipe.  Walnut and Chocolate Pie.  This is beautifully rich and moreish.  If you can resist a slice of this then you are a much stronger person than I am!
It was my husband's birthday yesterday and I decided to break with tradition and bake him a pie instead of the usual cake.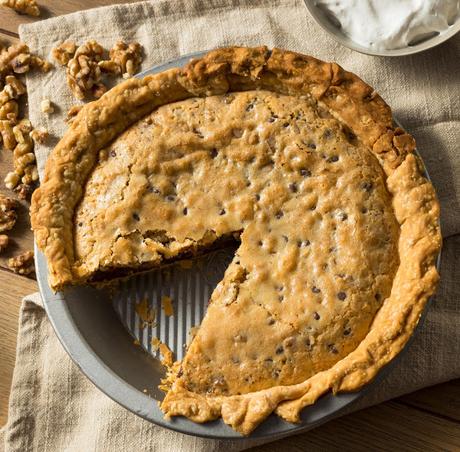 Okay true confessions here, the pie is more for me than for him.  I am honest if nothing else. I did also bake him his favorite
Victoria Sponge Cake
.
Yes, he also enjoyed the pie, but in all truth he also really enjoyed the cake. Birthdays just need cakes. I used to bake my ex his favorite Butterscotch Pie every year on his birthday, but we also had cake as well.
Why not bake two delights for your loved ones special days?  Why not indeed!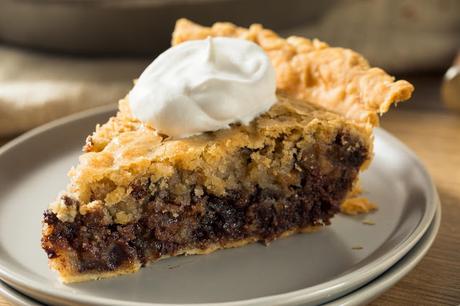 This lovely rich and decadent pie is the perfect way to show someone how much they mean to you! with its flaky butter crust and rich sweet filling, it never fails to please. 
We enjoyed it with a dollop of softly whipped cream, but it is equally as delicious served with a nice scoop of vanilla on the side, "A La Mode!" 
What more could anyone ask for?  
Walnut and Chocolate Pie
Print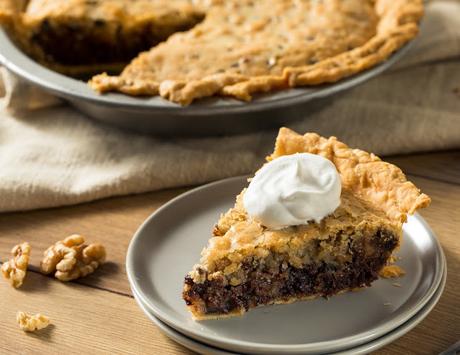 Yield: 8
Author:
Marie Rayner
prep time: 10 Min
cook time: 50 Min
inactive time: 2 Hour
total time: 3 Hour
With a rich and lush filling of good walnuts and semi-sweet chocolate, this incredibly moreish pie is a favorite with anyone who is lucky enough to have a slice.  It does need to set up for at least two hours prior to cutting.  Vanila bean ice cream or whipped cream go wonderfully with it!
Ingredients:
1 (9-inch) unbaked single pie crust 
1 1/4 cups (145g) toasted chopped walnuts
1 cup (180g) semi-sweet chocolate chips
1/2 cup (95g) granulated sugar
1/2 cup (100g) soft light brown sugar, packed
1//2 cup (70g) all purpose (plain) flour
1/2 cup (120g) salted butter, melted and cooled
2 large free range eggs, lightly beaten
2 TBS pure vanilla extract
pinch of salt
Instructions:
Preheat the oven to 165*C/325*F/ gas mark 3. Place a baking sheet into the oven to preheat.
Prepare and roll out your pastry in a circle large enough to line a 9-inch pie tin.  Transfer to the tin. Trim and crimp the edges.
Sprinkle the chopped walnuts and chocolate chips into the crust, distributing them evenly.  (I like to toast my walnuts first.  8 to 10 minutes  spread out on a baking tray in a hot oven.  Let cool.)
Whisk both sugars, and the flour together in a bowl with the salt.   Add the eggs, melted butter and vanilla. Mix well together and then pour over the chocolate chips and nuts.
Put onto the preheated baking sheet and bake for 50 to 60 minutes until the pie looks set and doesn't jiggle on top.  You may need to shield the edges of the pastry with some foil if you think it is getting too brown.
Remove from the oven and cool for a minimum of 2 hours prior to cutting into wedges to serve.
Did you make this recipe?
Tag @marierayner5530 on instagram and hashtag it #EnglishKitchenCreated using
The Recipes Generator
To learn more about Erbology and all that they provide do check out their website.  You can
find that here.
These are not supplements, but food. Rare, plant based, ingredients that nourish your body and create delicious dishes. They also offer
personalised boxes
which make for great gifts for others and for yourself. Organic and 100% plant based and delivered right to your door.
What more can I say, but do check them out!
This content (written and photography) is the sole property of  The English Kitchen. Any reposting or misuse is not permitted. If you are reading this elsewhere, please know that it is stolen content and you may report it to me at: mariealicejoan at aol dot com 
 Thanks so much for visiting. Do come again!

Follow my blog with Bloglovin