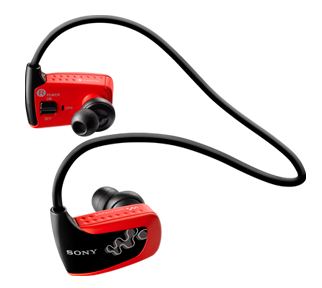 You might think the Sony Walkman franchise has ended up in the dustbin of history, along with gramophones, turntables, vinyl records and eight-track tapes. In fact, Sony continues to churn out Walkman products – four different series of them, as you can see here.
Recently, Sony (through Klout) sent me one of the Walkman products to take for a spin.  It's a special edition, two-gigabyte MP3 player with special features for runners or want-to-be runners. Sony has teamed with Olympic silver medalist and New York Marathon winner Meb Keflezighi to provide preloaded audio tips to help runners train, develop a good nutrition program and stay motivated to reach their goals. The Walkman also comes with a booklet of tips and advice from Meb, and a portion of the sales proceeds will go to the Meb Foundation.
Before you can use the unit, it has to be charged, and you have to upload music from your collection. This is an easy, intuitive process. Simply plug the unit into a USB port, and after a short time, a screen displays allowing you to drop and drag files and playlists you want to include. You can use MP3s from iTunes for Windows, Windows Media Player or Internet Explorer. (The unit does not support non-Windows operating systems.) I was a bit pressed for time when I started charging and uploading. I initiated the upload of about a gigabyte of music and then left the Walkman charging while I went to a meeting. When I returned a few hours later, it was ready to go. I threw the unit into a travel bag and used it the next day on a four-mile run during a trip to Las Vegas.
I found it easiest to start tracks playing before putting the unit on. There are controls built into each side of the Walkman – volume and playlist/shuffle selection on one side, pausing and track forwarding/reversing on the other. With more experience, a runner could probably learn to use all the controls while running.
The Walkman is comfortable to wear, and it comes with small, medium and large earbuds. I liked being able to run without needing a cord from earbuds to the iPhone I normally run with.
At one point, the unit started slipping out of my right ear. When I adjusted it, I hit the button advancing the tracks and lost a song I was really getting into. Again, with more experience, I think a runner would learn how to adjust the unit without hitting the controls.
The main problem I see with the unit is this: I would never run without my iPhone because I use a Nike running app to record my total time, minutes per mile, distance and calories burned. The app gives me a historical record of my runs and a map of each run's route. Using the iPhone also makes it easier for me to see the songs, playlists and artists in my collection.
What I'd really like to see Sony or someone else do is this: Create a high-quality, stereo headset that will pair with my iPhone via bluetooth. This would let me use the iPhone as I do, free me from the earbud cord, and give me a more satisfying run.
What do you think, Sony? Is this a possibility?