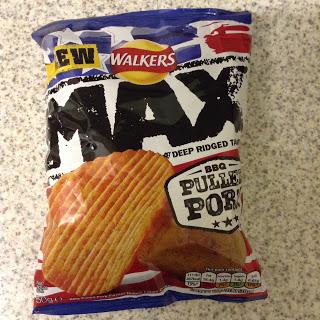 I always love finding a new Walkers crisp flavour, they tend to push the boat out in terms of unusual varieties - who can forget ones from last year such as Cheese, Cucumber & Heinz Salad Cream, Bacon & Heinz Tomato Ketchup and Sausage & HP Brown Sauce Crisps?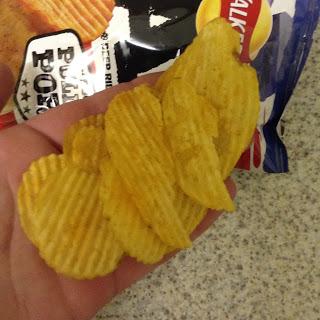 This year they've gone for something more "on trend", in their "Walkers Max Deep Ridged" range. It is of course BBQ Pulled Pork, which unfortunately isn't suitable for vegetarians - sorry folks!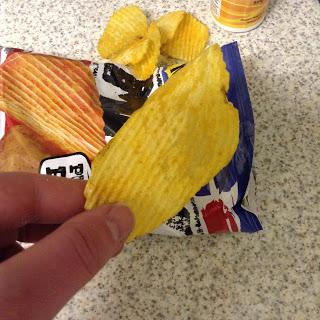 The crisps are certainly deep ridged alright, and mighty huge...check out the length of the one above! Luckily they delivered as much on flavor as they did in size: they have a strong, smoky BBQ pork flavour, slightly sweet and very meaty. They're very moreish, athough I felt happily satisfied from just the one bag. They're a bit pricey at £1.05 per 50g bag at WH Smiths, but that's more down to WH Smiths always overcharging for stuff. I expect these will be a lot cheaper in other shops and wouldn't be surprised to see Boots stocking them soon.
Overall, this is a great new flavourful variety from Walkers Crisps, and if I see at at a cheaper price I'll definitely be happy to buy it again.
Ingredients: Potatoes, Vegetable Oils (sunflower, rapeseed), Pulled pork seasoning (sugar, salt, fructose, flavourings, spices, pork powder, smoke flavour, color paprika extract). 

Nutrition Information (per 50g bag): 267 Calories, 16.4g Fat, 25.4g Carbohydrates, 3.3g Protein.
 
8.5 out of 10.