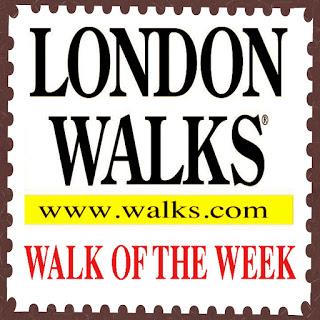 Every Sunday 
we'll pluck just one walk from the vast

London Walks

 
repertoire and put it center stage.
You 
can check out the full schedule at www.walks.com.
But if you only take one walking tour this week, why not make it…
DARKEST VICTORIAN LONDON
10.45 am on Mondays

 

from Monument Tube
Meet just outside the Fish Street Hill exit
Elsewhere is always surprising. Especially when elsewhere is the dark side of the moon: the Victorian underside of 21st century London. And this is how we get there. We poke around in forgotten corners of "the real London" just over the river. We make some thrilling – and chilling – "finds". Everything from trace evidence – archaeological fragments – to the whole kit and caboodle. Stuff from the old, furtive, toil-worn, hard-scrabble, soon-to-be-passing, villainous past: a paupers' burying ground, a ragged school, "model dwellings", a prison, Octavia Hill's cottages, etc. We see it. And hear the people. Really hear them. Because they speak through the guides: chimney sweeps, prostitutes, the soon-to-be-executed "Black Maria", pickpockets, street sellers, the Body Snatching Borough Gang, etc. This is history as a seance. And for added value...at the end of the walk you'll be able to get into the Old Operating Theatre at half price! It's well worth seeing...it's the only Georgian operating theater in the world
The Darkest Victorian London walk takes place every Monday at 10.45 am
Meet just outside the main exit – the Fish Street Hill exit – of Monument Tube
Guided by Karen or Kim or Sue or Richard III
A London Walk costs £9 – £7 concession. To join a London Walk, simply meet your guide at the designated tube station at the appointed time. Details of all London Walks can be found at
www.walks.com
.