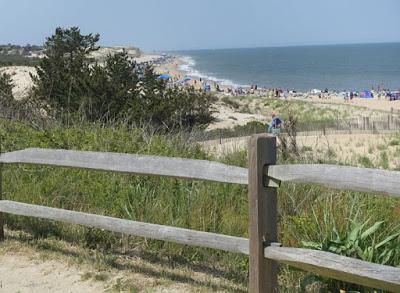 Henlopen State Park, Delaware, view from Herring Point
On a recent trip to visit relatives in Delaware, we did an excursion to
Henlopen State Park
to view the ocean and beach and take a walk along one of the many trails. Cape Henlopen is a short distance from the historic town of Lewes, and on our way to the park we did a short driving tour of the town.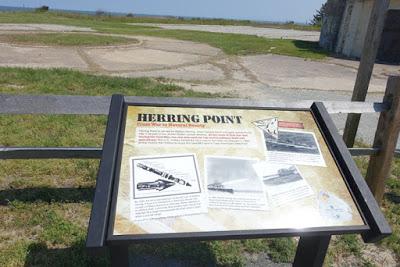 We started our visit to the park at the Herring Point overlook with its spectacular view. It was a holiday weekend and the beach was filled with people as far as the eye could see–picnicking, surf fishing, flying kites, playing at the water's edge. Behind us were the remains of a World War II bunker and an observation tower. As well as having a military history,the Delaware coast is also along an important bird migration route, and as we stood at the observation point, we watched ospreys and other birds soar overhead. In the distance, we could see the ferry headed for Cape May in New Jersey.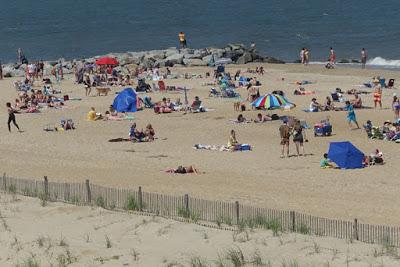 From the time of the American Revolution, Cape Henlopen in Delaware has been an important strategic location along the Atlantic coast. Poised at the entrance to Delaware Bay and across from Cape May in southern New Jersey, it is at the entrance to an important shipping channel going up the Delaware River to Philadelphia and beyond. Today, Cape Henlopen is a Delaware State Park.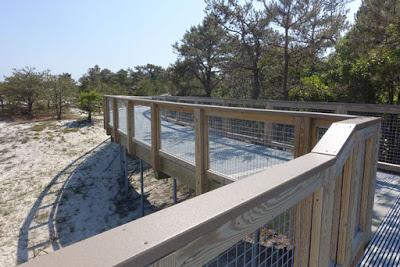 After enjoying the view, we set out on  the bike path/walking trail, which, after a short while, became a board walk with dunes on one side and forest on the other.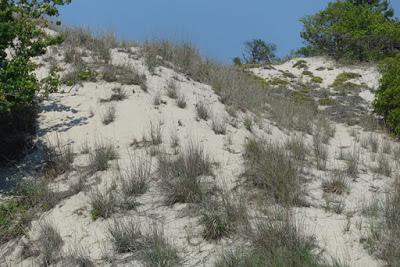 The trail eventually leads to Gordon's Pond but we only went as far as the viewpoint (and bench) overlooking the vast salt marsh, a beautiful sea of green grasses.
It was warm for late May, but the sea breeze made the air comfortable. It was a lovely day with flowers blooming and birds singing. On the way back to our car, we spotted a pair of warblers in a tree along the path.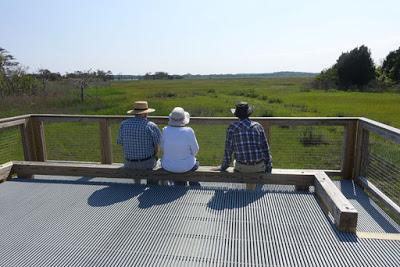 Although I have driven through northern Delaware near the city of Wilmington in the past, this was my first chance to spend any time there. Delaware is a state with a long history--I'd forgotten that it was the first colony to become a state in the United States–and places like Lewes and Cape Henlopen are well worth further exploring. I will have to go back.