All Four main Welsh Political Parties to Parade with Pride in Cardiff on September 1st 2012
Organisers list participants
EVENT DATE: SEPTEMBER 1st 2012 11.30am – 12.30pm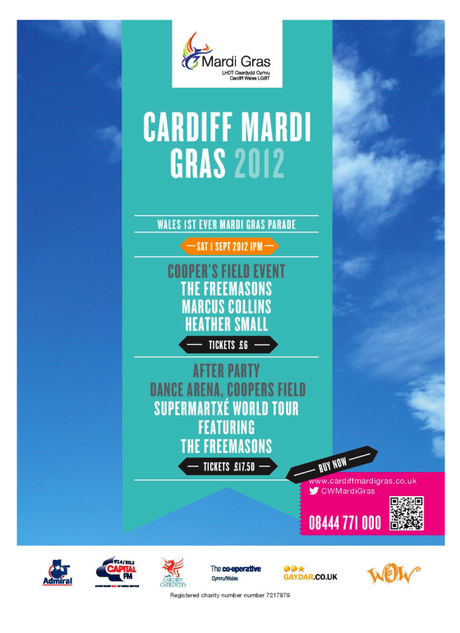 Representatives from all four main Welsh political parties will join the first ever Mardi Gras Parade on September 1st 2012. The colourful and inspiring spectacle will highlight LGBT rights in Wales on as the parade moves off from the assembly point on Dumballs Road at 11.30am on September 1st through St Mary Street and High Street, prior to arriving at Cooper's Field in time for the main Mardi Gras event.
Jane Hutt AM, Minister for Equality added:

"I'm delighted to see the Mardi Gras returning to Cardiff again this year.  Cardiff Mardi Gras is a great example of how we can bring people together to eliminate discrimination, something the Welsh Government is always keen to support.  This year will see the first Mardi Gras Parade through the city center which will be a highlight of the weekend.  I'm sure the 2012 Mardi Gras will be another big success for Cardiff."


Conservative AM Nick Ramsay will be one of the politicians joining the parade through Cardiff City centre, he said, "I am looking forward to joining thousands of people from all walks of life to celebrate this great display of diversity and unity taking place in our capital city. Over the years the festival has built up a great reputation and not only does it provide a great opportunity to celebrate the wide and varied society that exists in Wales but it also helps to raise awareness of equality issues. Year on year the Mardi Gras has grown and I am sure the addition of the march from the city center to Coopers Field will attract many more people to this vivid and colourful event. As a Welsh Conservative I will continue to stand up for the rights and freedoms of the individual. Conservatives both here in Cardiff and Westminster are working hard to advocate the message that bullying and discrimination on the basis of sexuality have no place in 21st Britain."
Plaid Cymru has once again given its support to Cardiff Wales Mardi Gras.  This year, Plaid Pride – the party's LGBT affiliate group – is looking forward to marching in Wales' first ever LGBT pride parade. Leanne Wood, leader of Plaid Cymru, said:  "Since I've become leader, I've made it priority for our party that we campaign visibly and vocally on issues that are important to all the communities of Wales. With the present-day repression of LGBT pride parades abroad, we know just how critical marching has been for the progression of equal rights for LGBT people across the world. Here in Wales, thanks to the activism of previous generations of gay activists who refused to hide who they were, we can celebrate today all those rights that have been secured in such a short period of time. But while we may see a political consensus in favour of LGBT equality in Cardiff Bay, homophobic and trans-phobic abuse and violence is nowhere near over in Wales.  Last year, in the South Wales police force area, reported trans- and homophobic hate crime increased by 62%.* And we see the lingering homophobia and gender discrimination, especially bullying in our schools. Mardi Gras is a day for celebration and a day to party.  But it's also about standing up and challenging hate speech whatever its origin, and about refusing to let intolerance take hold in Welsh political and civic life. I'm proud to give my Party's full support to this year's festival, and I wish all the best to our marchers."
Kirsty Williams, Leader of the Welsh Liberal Democrats, said that their involvement in the first Wales Mardi Gras Parade was of significant inportance:

"Mardi Gras is a fantastic event, but of course there is also a serious message that the Mardi Gras carries with it.  It is a sad fact that, even in this day and age, members of the LGBT community are more likely to face discrimination.  This state of affairs really can't be allowed to continue. The Mardi Gras does great work at creating equality through promoting visibility of the diverse communities in which we all live. The Welsh Liberal Democrats have fought for years for fairer rights and equality for the LGBT community, which is why we are supporting the Coalition Government's plans to introduce same-sex marriage.  We believe that that to deny one group of people the same opportunities offered to another is not only discrimination, but is not fair. Love is the same, straight or gay, so the civil institution should be the same too."


The challenge to

businesses, employers and organisations to get involved in the first ever Wales Pride Parade has been a success for

organisers. The response so far has come from across the board, organisations, dance and sport groups and Choirs.

Other participants who have pledged their support and will be part of the parade include:


Cardiff University LGBT+ Society - LGBT+ stands for lesbian, gay, bisexual and transgender. They represent non-heterosexual/non-cisgendered folks, or anyone who feels they fit/might fit into a minority sexual or gender identity.

www.cardifflgbtplus.co.uk/




Stonewall Cymru

is the all-Wales Lesbian, Gay & Bisexual Charity. Their aim is to achieve equality for LGB people at home, at school and at work. Established in 2003 with support from the Welsh Government and Stonewall GB, our work is tailored to the needs of LGB people across Wales and draws upon a wealth of research from Stonewall across Britain.

www.stonewallcymru.org.uk/cymru/




TUC Cymru

represent all levels on matters pertaining to LGBT trade union members in Wales. They perform a public relations function for the trade union movement in Wales on matters pertaining to LGBT trade union members in Wales.

www.tuc.org.uk/tuc/regions_info_wales.cfm


South Wales Gay Men's Chorus - a group based in Cardiff that perform across South Wales and the UK. With about thirty regular chorus members they have performed before at the Cardiff Mardi Gras.

www.swgmc.com/




Transgender in Wales.

The LGBT Excellence Centre is a social enterprise and registered charity that delivers support services, projects, programmes and events relating to sexual orientation and gender identity for individuals and organisations to promote greater equality and protect human rights.

www.tginwales.org.uk/content.php




Terrence Higgins Trust

is the leading and largest HIV and sexual health charity in the UK. Terrence Higgins Trust is at the forefront of the fight against HIV, and improving the nation's sexual health.

www.tht.org.uk/




Cardiff Roller Collective

was founded in October 2010, Cardiff Roller Collective were originally an all female flat‐track roller derby league in Cardiff, South Wales, and are now actively involved in lots of roller sports including roller hockey, recreational roller skating and men's roller derby.

www.cardiffrollercollective.com/




Richard Newton

urged more members of the local communities and beyond to participate, and added, '

Parades in other parts of the country have attracted participants from all walks of life, Universities, Health Boards, Businesses, Local Government Offices, the General Public and various Associations. Our aim is to attract as many participants as possible to brighten the Streets of Cardiff and take a

positive stance against discrimination, this will strike a chord with many so come and join us'.


There will be no charge for individuals and non-commercial organisations joining the parade on foot although there will be a charge for commercial businesses. There will also be prizes for the best Float and Best Walker. Application forms have been posted on the Cardiff Wales Mardi Gras website

www.cardiffmardigras.co.uk

. The Parade will travel through the City Centre arriving at Coopers Field in time for the start of the main stage activities which include X Factor Finalists Marcus Collins and Ruth Lorenzo, and singer Heather Small and world supergroup The Freemasons.