I remembered my first experience eating Waldorf Salad (chicken) was in Milano's Pizza (now defunct) 
Being not a very salad person, I really love this salad very much.  The taste is so well rounded, you have tang from the apple, the sweetness from the raisins and the crunch from the walnut and celery.  
Later on, we used to have it as our dinner.  An easy to prepare meal for just the two of us after work.  With added chicken, this salad is like a complete meal.
My children are slowly picking up appreciating salad and this is a good salad I think to start changing their perception.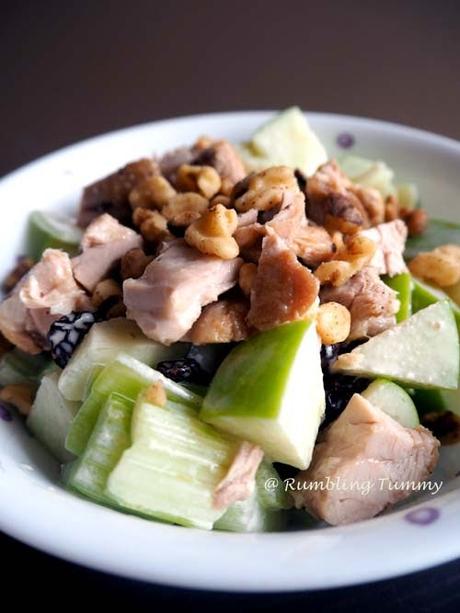 Verdict: I added too much lemon juice so the next round I will reduce this.  I am not sure whether added a little bit more honey will alter the taste but I will try next round.

What you need:Serve 4

3 chicken breast3 green apples cored and diced8 sticks celery, diced80g raisin100g chopped walnuts110g Japanese mayonnaise1½ tbsp lemon juice (adjusted from 2 tbsp)25g honeysalt and pepper to taste

Method:

Steam chicken breast.  Cool and cut into cubes.

Add the chicken cubes, apples, raisins and celery to a medium sized bowl.

In another small bowl, whisk the Japanese mayo, lemon juice and honey together. Taste to your preference.

Season with salt and pepper.

Drizzle the dressing to the salad and gently toss to distribute the sauce evenly.

Add chopped walnuts and serve.

Eat on its own at room temperature or chilled