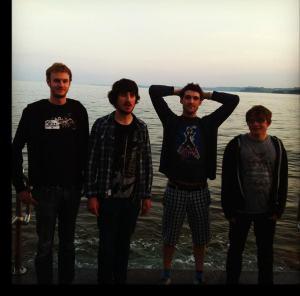 Southampton's Waking Aida are already lined up to make an appearance at ArcTanGent, have played Leicester's Handmade Festival and their debut album 'Eschaton' is being released on esteemed label Robot Needs Home. To complete their rapport with math-rock royalty, the album was recorded by Maybeshewill's Jamie Ward. With this impressive list of associates, the four-piece look set to be your new favorite band…
Opening with considerable restraint, the album begins to hit its stride, and Waking Aida show hints of what they're truly capable of, on the eminently danceable second track 'Incandenza'. With its mixture of early Foals, subtle electronica and scattered stop-start guitar, the track flies by even though it touches nearly the nine-minute mark. Coming across like it was effortlessly improvised, it takes you on a real journey. From the outright aggression around two minutes to the evocative spoken-word samples that finish the song, you know this is an album that won't be afraid to head off in the exact opposite direction to what you were expecting – but with near-flawless execution.
This all-encompassing approach continues throughout 'How to Build a Space Station', a song that combines infectious youthful enthusiasm with a far-reaching and understandably soaring end goal. Almost evoking chill wave at times, the song also has elements of Tall Ships with its pacy math-meets-indie pop opening, although this soon makes way for addictive riffs and frenzied drums. There's a gorgeously glacial sound throughout many of the songs, and combined with the childlike glee of the glockenspiel that makes occasional appearances, this is a wonderfully off-kilter approach that is joyfully happy from pretension.
There is an otherworldly theme running throughout, especially with the song titles. 'Time Travel with Friends' is never not interesting with its alien electronica sounds and sunshine-tinged melodic guitars colliding in post-hardcore fashion, while 'Matted Fur' has more of an apocalyptic vibe. The deliciously dark 'Your Tiny Voice is Booming' has a twisted fairy tale feel that gradually grows into an Appleseed Cast crescendo, and delivering big endings is something that the band really have got the knack of. You get the feeling the band play every song like their lives depend on it – it's a tantalising prospect how good they will be live. With moments of Explosions in the Sky-style splendour flowing gracefully with the odd but exhilarating time signatures, their off-kilter approach has to be applauded. It's an electrifying roller coaster of a listen.
Find out more about Waking Aida:
wakingaida.co.uk
facebook.com/wakingaida
@wakingaida
Filed under: Album review, New music, Preview Tagged: Album review, alternative music, math rock, Maybeshewill, new music, pop music, post rock, Robot Needs Home, Southampton, Waking Aida