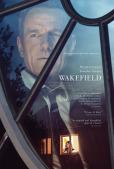 Howard Wakefield has it all, a loving wife Diana, two daughters, an impressive job a lovely home. Sometimes though having everything just isn't enough and when he has a slight breakdown he ends up exiled in the attic above the garage spying on his family.
I had heard of this film when it was released on DVD/Blu ray here in the UK, it didn't seem to make it to the cinema screens. This morning though it was available on Sky Cinema and because I have become quite a fan of Bryan Cranston I watched it as soon as I found out really.
I do feel like I should warn everyone that it is a rather difficult film to watch, it has a subject that we don't really want to think about. What would your life and the people in it look like if you suddenly weren't around anymore. The thing in Howard's case was that he was creeping and watching from the window. Many problems with that in all honesty, but I will get to that later.
Cranston's performance was brilliant as we could slowly seen him losing more and more of his mind as he kept himself hidden away. At times though not hidden very well as he ventures out at night to see if he can find food in the rubbish bins and anything else that might come to use. He watches and taunts his wife from the window, happy that he has managed to upset her. We only get a small part of Garner really as her character is being watched and mainly shown in flashbacks to how they ended up together.
My biggest problem with the film was that I just couldn't believe he went so many months in the attic over the garage without anyone noticing anything strange, and well the smell factor surely? I also found myself getting a little bit bored of the narrative and the ending left me extremely frustrated. I mean I get the point of the ending like that, but as I had invested so much time I wanted a proper response to it all. I hope you agree with this if you have already watched this one?
I am therefore going to sit firmly on the fence and not sure if I would actually recommend this for everyone to watch. Obviously if you are a big Cranston fan then you really should watch it! If you aren't then it would be a one to avoid, although saying that who isn't a fan? I just didn't feel the film had enough substance to it and his reasons for wanting to watch his wife was not really something that warranted his behaviour in my opinion.