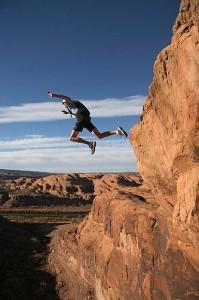 Photo Credit: Creative Commons
"In the morning, O Lord, you hear my voice; in the morning I lay my requests before you and wait in expectation." Psalm 5:3
Sometimes, it's hard to let myself expect something from God. To let my heart really hope for answered prayers. Waiting in expectation can feel a bit like jumping off the edge of a cliff. If God answers the way I want Him to, my parachute of faith deploys and I float joyously to the ground below, enjoying the freedom of the flight and the beauty of the scenery.
But the chances of jumping off the cliff and falling face first into the rocky canyon of disappointment are pretty high. I've been thrown off the cliff and had my dreams dashed on the rocks plenty of times. When I experience such disappointment, it just feels safer and easier to stay down there and hike along the floor of the canyon.
Many writers are currently in the season of entering contests, which is a scary time to put expectations on the line. So far, I've approached contests with an "I'm entering, but I know they'll hate it" attitude. My heart naturally has good expectations, but I quickly talk myself down. It just seems better to get a pleasant surprise if something good happens, rather than hope for something and be disappointed. But is avoiding disappointment worth missing out on the joy of waiting and watching to see what God will do? Aren't ten days of anticipation better than ten days of dread? When I'm excited and anticipating what God will do, I have less room for worry.  And where there's less worry, there's a greater measure of joy.
A large part of the faith journey is trusting God and expecting Him to move when I call. And that means I have to do the hard work of climbing back up the rock face to take my place on the edge of the cliff, again and again. Psalm 103 says that the Lord satisfies our desires with good things. Even if things don't turn out like I want them to, I can safely expect something good from Him. He has proven Himself faithful to me again and again.
So in this season, I'm practicing the discipline of laying my requests before God and then waiting in expectation. He is good. He can be trusted with every concern of my heart. He will satisfy my desires with good things.
"There is no medicine like hope, no incentive so great, and no tonic so powerful as expectation of something tomorrow."  Orison Swett Marden
How about you? Do you find it easy to wait expectantly or do you try to protect yourself from disappointment? Are you entering any writing contests this year?