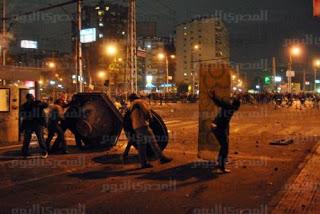 Violent clashes at the Presidential Palace, December 5, 2012. Photo Credit Al Masry Al Youm

A constitutional referendum is scheduled for December 15, 2012 (this Saturday) and December 22, 2012. The National Salvation Front is asking supporters to vote NO.
Egyptian president Mohamed Morsy issued a law yesterday dividing the constitutional referendum into two stages. Ten governorates will vote in the first stage on 15 December: Cairo, Alexandria, Aswan, Assiut, Daqahlia, Gharbiya, Sharqiya, Sohag, South Sinai and North Sinai. The remaining governorates will vote on December 22d, 2012. These governorates include Giza, Qena, Beheira, Beni Suef, Damietta, Ismailia, Kafr al-Sheikh, Matrouh, Monufiya, New Valley, Port Said, Qalyubiya, Red Sea, Suez and Luxor.
The leader of the National Salvation Front is leftist politician Hamdeen Sabbahi. They want the referendum to take place over a single day. They have also asked for full judicial supervision, and have called for domestic, international, and NGO teams to supervise the vote. 
National Salvation Front Urges No Vote on the Egyptian Constitution (Egypt Independent)
Most judges have refused to supervise the vote in protest of Morsy's recent power grab. Egyptian expatriates began voting today, Wednesday, December 12, 2012. Morsy Issues Law Staggering Referendum Vote (Egypt Independent)
Meanwhile, the Egyptian Street remains outraged at Morsy's efforts to give himself more power. According to Nathan Brown, a professor at George Washington University, Morsy has paced all of his actions, and those of the constitutional assembly outside of judicial review. He has made it impossible to disband the constitutional assembly, and has effectively assumed legislative powers. Brown argues that the constituent assembly (or constitutional assembly) is dominated by Islamists. Morsy has reduced the pressure for the CA to reach a consensus document, and he is instead allowing the predominantly Islamist CA to force their version on the Egyptian opposition. 
As Egypt's Constitution Waits in Limbo, Morsy Grabs More Power (Carnegie Endowment)
Human Rights Watch states that the draft constitution provides for basic protections against arbitrary dentention and torture and for some economic rights, but fails to end military trials of civilians or protect freedom of expression and religion. One positive development is that the final draft does not require strict adherence to sharia with regard to women's rights (former article 68 has been removed). However, sex or gender is not a grounds for prohibiting discrimination in the new draft, and potentially interferes with women's choices about work and family. 
Egypt: New Constitution Mixed on Support of Rights (Human Rights Watch)
Meanwhile, thousands of demonstrators gathered in Alexandria yesterday to reject the referendum on the new constitution in front of the Haqaniyq Court. Further, thousands of opposition members marched from Hijaz Square in Heliopolist to the presidential palace last night to reject the referendum. More marches are scheduled beginning today. 
Opposition Protesters March Again (Egypt Independent)