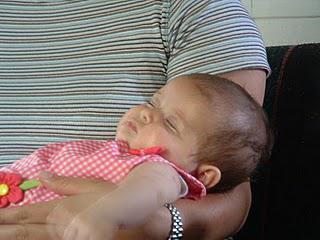 When my kids are grown and I am (hopefully) retired, I want to be a NICU baby cuddler! What an absolutely wonderful idea. I am sure there are germ issues and some NICU babies are too sick for a stranger to hold, but for those babies that need a little love, I am happy to give it. Here's a story from NBC that talks about how the baby cuddlers are improving outcomes for these tiny people.
FROM NBC:

The little patients in the Neonatal Intensive Care Unit require many things-constant monitoring, medication, and lots of TLC.

While the doctors and nurses are more than capable of providing the first two, they don't always have the time to spend holding and coddling the little ones and the parents often can't be there all the time. That's where the volunteer cuddlers step in, offering soft words and gentle touches that can help as much as the strongest medicine.


"Hi sweetheart. Hi, how are you doing today?" Phyllis is a volunteer cuddler, for babies in children's hospital los angeles neonatal intensive care.

"I missed you. I haven't seen you for a whole couple days."

For the little ones who don't yet understand the words. "Come on, ok tell me about it. You're getting so big and so strong. Look at you! Look at you!"


It's easier to tell them everything will be OK through the universal language touch.

Dr. Phillippe Friedlich/Neonatologist: "Touch, whether it is just to cuddle them, whether it's half hour, hour everyday can change the outcome of those infants."

"Is that a yawn?"

Phyllis Johnson/ Volunteer Cuddler: "It's soothing, making them a little more comfortable, getting them some sleep when they need some sleep."

jennifer: "How do you not just fall in love with all of them?"




Phyllis Johnson/ Volunteer Cuddler: "You do! You do."

Michel Vergon/Volunteer Cuddler "It's true if you see a baby for weeks, um, you cannot help it to be attached to them. i'm sure it's the same situation for the nurses. It's gotta be hard. It is hard, difficult sometimes."

Michel's grandchildren are in France. So he sings to these little ones instead.


Michel Vergon/ Volunteer Cuddler: "When they cry and you hold them and sing to them it works like magic." Magic the nurses don't always have time to create, and relief for the parents who can't be here all the time, and who always worry.
Darlene Gonzalez/ Davina's mom: "It's a good feeling and I know that she's in good hands."

For the volunteer cuddlers, touch is only a part of it. So many of these children are in and out of this hospital for so many years, the volunteers become friends. Friends who make the hospital that much more hospitable.


Michel Vergon/Volunteer Cuddler "I tell you what, I've been attached to some babies cuz they were here for a long time."

Michel remembers one boy who was a regular here for 7 years. Michel Vergon/Volunteer Cuddler"I keep in touch with him. I keep in touch." So when it's time to let go "It's one of the greatest pleasures to watch one of these kids make some progress and go home."



-NewsAnchorMom Jen
Skin Dimensions SB products, exclusive to Soderstrom Skin Institute, are manufactured with Pharmaceutical-Grade ingredients. In addition to being "Feel Good Products," they contain unique and innovative ingredients in concentrations that can assist you in the achievement of your own personal skin care objectives. This product line contains higher percentages of Glycolic, Vitamin A, C, E, Co-Q10, green tea, than what you can purchase over the counter.