Yesterday morning we departed from Banyoles. On the way we stopped to see again the magical little park of Les Estunes with the crevices in the earth. Then our journey continued to Olot, a town in an area full of extinct volcanoes. The last time we had been there 4 years ago we had seen some of them. Now there is no time – but our friend Rafael presented to us a "bomba volcanica" – a volcanic "bomb" – an egg-shaped stone formed under the pressure of an eruption eons ago.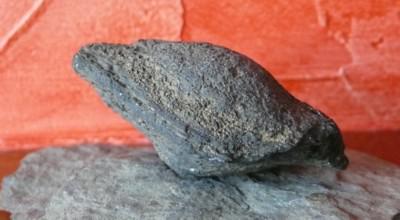 A little "bomba volcanica"
The weather was very warm and heavy when we walked over the the home of Karla, the head of the WTT center in Olot called Chandra, Healing Centre. Karla is an experienced naturopath and a homoeopathic doctor since nearly 2 decades. In the room of her practice about a dozen persons assembled for meditation in the afternoon. Some minutes after the start of meditation a sudden cloudburst started. After a long time of draft finally nature was pouring water on the dry meadows.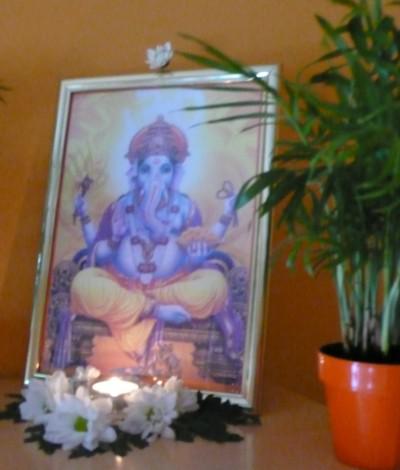 A Ganesha picture at the house of Karla
After the meditation Karla explained to me a little bit of her work. She is giving treatments and consultations, and the therapies are for her a way to guide people on the path of spiritual progress. Every Thursday they are doing a healing meditation where the names of persons to be healed are written on papers which later are burned in a little ritual.
After the meeting we went to Joanna, who is living in the same street. Some month ago she had opened a vegetarian restaurant and take-away, the only one in Olot. For a long time she had been cooking for people in her home, but now they have separate rooms. A hard work of setting up the location was lying behind them. They called it "a place of consciousness". Her daughter-in-law joined us, and she was very fluent in English -  a good help for us.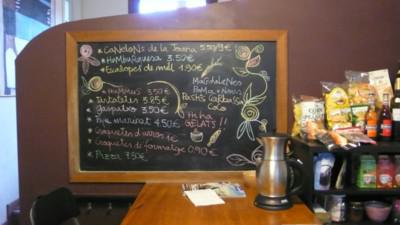 They were just finishing the summer pause and Joanna showed us the kitchen and the storage rooms.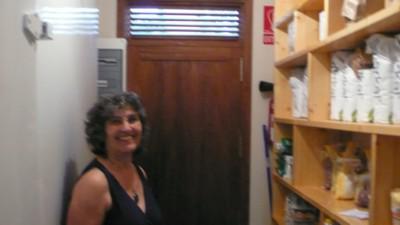 Joanna in the storage room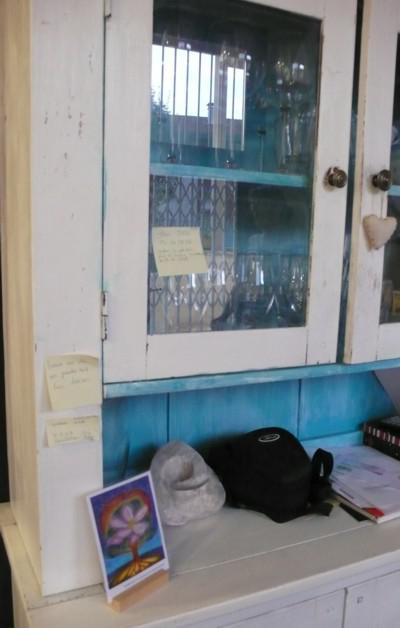 I was surprised to see here a picture I had done 2 years ago – a friend had done a card from it with a food blessing on the backside and distributed it to the group members.
Afterwards we went into the city. My wife wanted to by chufas – "tiger nuts" for a Spanish drink called horchata. In a big health food store we found these dry nuts which need to be soaked and ground before being used…
Then we saw another health food store of group members in the old town where we talked with them for a while.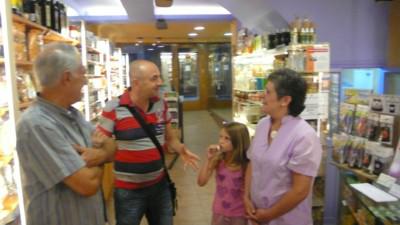 It was nice to see how the different group members integrated their way of living with their activities in society in a very casual way. So you could find some angel cards or feng shui articles between the health food and they were giving nutrition information to those who seek it. We had to smile when we saw a car with the initials of Master CVV in the road where we had parked ours: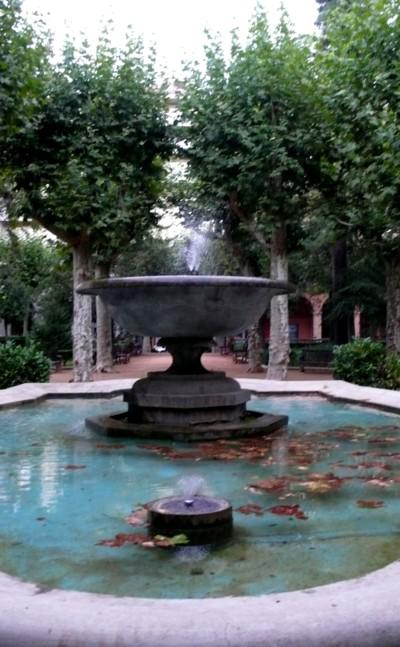 A fountain in a little park in the center of Olot
After dinner in the house of our friend Rafael we dropped into sleep.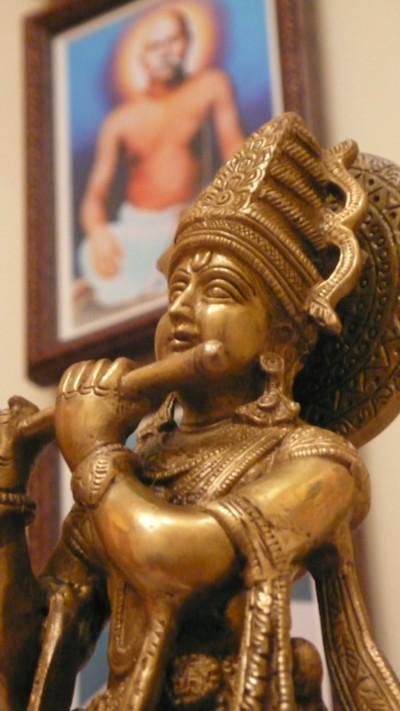 Krishna playing his flute in the house of Rafael