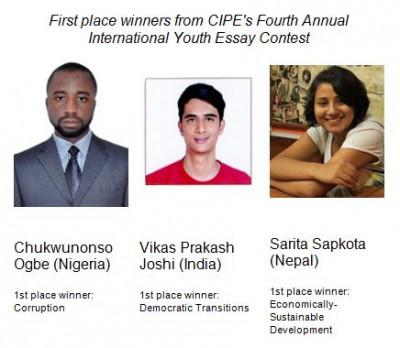 In 2011, youth movements around the world confronted dictators, demanded economic opportunity, and fought for political inclusivity. Young activists on the front lines of protest movements from Egypt to Chile made international headlines and challenged the status quo. But youth are not only agents of change; they are also their country's economic and political future.
As Babatunde Gabriel Oladosu of Nigeria, 2nd place winner in the CIPE Youth Essay Contest 2011 Economically-Sustainable Development category wrote, "I believe Nigeria's greatest wealth is not its 260 trillion cubic feet of natural gas or massive agricultural potentials; but the over 100 million youth it will have in 2020." This is true not just for Nigeria. Burgeoning youth populations from India to Ghana to Guatemala make it all the more important to engage young citizens in building democracies that deliver.
This week, CIPE celebrates winners of the CIPE Youth Essay Contest 2011 and all other youth that are engaged in strengthening democracy across the globe. This blog is the first in a three part series of interviews with the 2011 winners and will highlight winners' backgrounds and why they participated in the CIPE Youth Essay Contest. The three categories this year were Corruption, Democratic Transitions, and Economically-Sustainable Development.
What sparked your initial decision to participate in the CIPE Youth Essay Contest, and how did you choose your topic?
Chukwunonso Ogbe: (1st place, Corruption, Nigeria) "I chose [corruption] because I am not oblivious of the fact that my country Nigeria is a nation that has bright prospects, but we have, as a people, been unable to make progress in the area of national development due to the cankerworm of corruption and corrupt practices. I have always believed that the challenges of corruption are not peculiar with Nigeria as a nation so to speak, but having lived in Nigeria and having been a critical observer of the unspoken factors that make corruption immune to most solutions that have been offered by some authors and social critics in the past, I deemed it necessary to convey my feelings to the world on what could be done to checkmate the malaise of corruption and corrupt practices."
Riska Mirzalina: (2nd place, Corruption, Indonesia) "I want to share [with] my fellow Indonesian youth and global youth that despite booming economic growth, one country cannot achieve equal welfare for all of its society if the root of sickness—corruption—is still praised as normal in day-to-day dealings, from cheating during exams to bribing school officials to compromising businesses. I want to call upon the youth of today, for the sake of our future generation, to start ending early stage behaviors that become the fundamentals of a corruptive culture."
Ruth Nyambura Kilonzo: (3rd place, Corruption, Kenya) "My decision to participate was influenced heavily by my work at the Forum for Young Women in Politics. I had just began to work for them and I soon was faced with the challenges that women go through when funds that are meant to provide essential services like health care, post and pre-natal care and most of all engender development were being stolen by corrupt officials. This coupled with my research on trade and economic justice in Africa convinced me that writing about corruption issues was of great importance and being young, the youth aspect that CIPE's essay question worked perfectly."
Vikas Joshi: (1st place, Democratic Transitions, India) "[One] factor that spurred me to participate this year was the Anna Hazare-led agitation in India which was at its peak at the time the contest was announced and while I was writing it. In that sense, the topic I chose was something which resonated with what was happening around me. It was really something that I wanted to write about, and felt needed to be written about." (Read Joshi's published essay here)
Kirsten Han: (2nd place, Democratic Transitions, Singapore) "As a first-time voter as well as a citizen journalist [Singapore's general election] had a huge impact on my experience as a Singaporean, and the spirit of the 10-day period was something I had never seen before in this country. The result of the election, although still returning the ruling party to power, provided food for thought. When I saw that there was the category of Democratic Transitions, I thought that it would be good to write about my country. It's undeniable that there has been some change and a shift, but because change has not come in a way as dramatic or media-friendly as large-scale revolutions like the Arab Spring, sometimes our story gets overlooked."
Judith Aduol Nyamanga: (3rd place, Democratic Transitions, Kenya) "What sparked my initial decision to participate was based on the social, economic and political developments and challenges Kenya had undergone since independence and most profoundly, after the post election violence of 2007/2008. I wanted to assess the implications of the youth participation or lack of it, to the current developments…The youth if well utilized as a resource, can bring a paradigm shift in the way things are done in Kenya because they represent more that 70 percent of the population. Their numerical value, influence and power should never be underestimated."
Sarita Sapkota: (1st place, Economically-Sustainable Development, Nepal) "At the think tank where I work in Nepal, I am involved in writing for various publications of the organization and we mostly write about political economic issues of Nepal, focusing primarily on entrepreneurship and economic growth as a way out of poverty. Hence, having worked on such issues for a while with deep interest, the essay competition seemed like a perfect platform to put together the experience and reflection I have learnt so far. Writing for the think tank is strictly issue centric and structured, but in the essay I submitted, I could write more with personal reflection and how it has affected me, my ideas and perspective regarding the issue."
Babatunde Oladosu: (2nd place, Economically-Sustainable Development, Nigeria) "Business was (and still is) a veritable tool for political emancipation. I hold the view that sustenance comes before politics, and that people will get their stomachs full before asking what political party pasted the poster around the tree in the village square. To emancipate people, you must help them fend for themselves. If you want to enthrone democracy, you must decentralize the means of production. For young people to take charge of their countries' destinies, they must earn more than the cruel politician is offering them to foment trouble. I chose the economically sustainable category because it gave me the opportunity to advance my ideas about empowering Africa's youth."
Michael Olumuyiwa Kayode: (3rd place, Economically-Sustainable Development, Nigeria) "I chose this topic because I felt it is the closest and easiest way by which the Nigerian youth could influence the country. When we build ourselves, our economy will be built. And when we imbibe the right political and social culture, our democracy will be real."
Part two and three in the series will respectively highlight how winners' home governments can be more inclusive towards youth, and what the winners would like to learn from their peers around the world.