People have talked about voice search for a long time, many use it on their mobile phone to dictate their query using voice instead of typing.
Laurie Sullivan wrote a piece a couple hours ago that could have an effect on people who park domains and generate income from websites that monetize through Google Adsense.
The longer phrases spoken in voice search queries create a much closer match. It serves a more relevant ad to consumers, improves the quality score of the brand, and produces a lower bid for the phrase. In this scenario marketers will pay less for the top position.

The bottom of a detailed post from Alex Funk, director of digital media strategy at Covario, closes with an interesting thought about updating keyword lists to match longer natural language queries from users on the go. He said a few marketers have begun to explore that option, but not many. Frankly, I'm surprised, given the increase in mobile searches and smartphone use.
Now Google has already talked about the fact that mobile ad clicks pay less.  They noted it when they missed their second quarter 2013 earnings number. They said that it started hurting their numbers in 2011. Business Insider reported:
So what happened in Q4 2011? That was the point at which the number of people using Google on smartphones became so great that mobile ad revenue started to hurt Google's numbers.
Read more:
http://www.businessinsider.com/this-is-why-google-missed-its-q2-revenue-expectations-2013-7#ixzz2pwxTMDDJ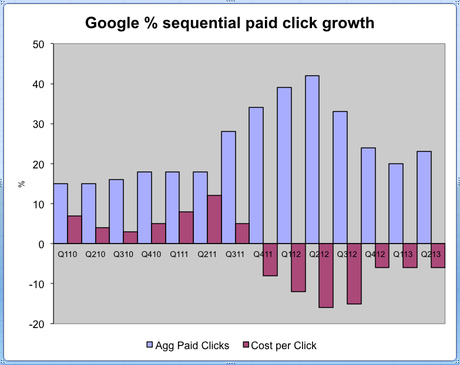 So clicks could get cheaper still, which is good if you got a site to advertise but lower revenue for parked domains and Adsense.…