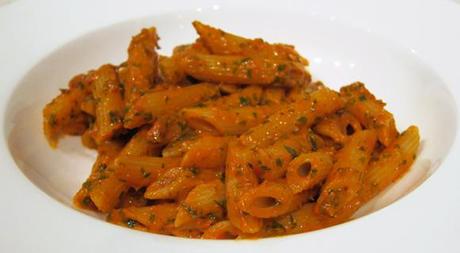 I've been away for so long that I feel almost ashamed of myself! Luckily, this is not sufficient to stop me from posting again :)
As you can see from the pictures below, I'm cooking in a different kitchen :) - this is part of the reason for my prolonged absence: we have moved to a new apartment and I haven't been cooking much lately, let alone blogging!
This quick and simple pasta recipe (adapted from the Silver Spoon) is another Italian classic, although it's made with vodka, a classic Russian spirit. It traditionally also contains cured cooked ham, but it can be omitted without taking too much away from the original flavor. As always when cooking with liqueurs and spirits, it has to be noted that any alcoholic content ends up evaporating completely. What is left, however, is more than the drink's aroma - alcohol has the ability to extract aromatic compounds from other ingredients (including those that don't mix in water), increasing the overall flavor of the dish.
Ingredients for 2 servings
- 2 oz unsalted butter
- 2 Tbsp tomato paste
- 1 Tbsp Italian (flat-leaf) parsley, finely chopped
- 4 Tbsp cream (33% fat)
- ¼ cup vodka
- 2 cups penne rigate (dried pasta)
- salt and pepper
Preparation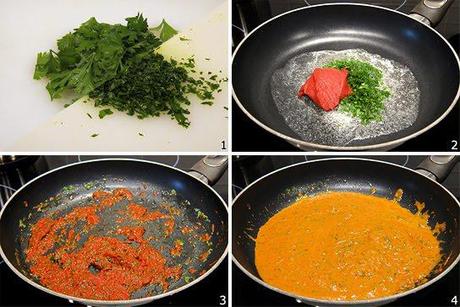 1) While bringing a large pot of salted water to a boil, finely chop the parsley.
2) Melt the butter in a pan, then add the tomato paste and the parsley.
3) Cook for 10 minutes at low heat, stirring occasionally. Meanwhile, start cooking the pasta.
4) Mix in the cream and the vodka, then continue cooking until the vodka evaporates completely and the sauce thickens again. Season with salt and pepper.
A soon as the pasta is ready, drain it quickly and then add it to the sauce. Stir gently until the pasta is fully coated. Serve immediately in preheated bowls.