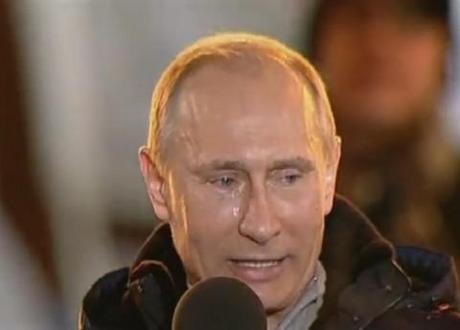 Vladimir Putin's victory speech: He's not crying, he just has something in his eye.
President-elect, Vladimir Putin's victory speech on March 4 was short and, one might say, brutal. Of interest was his choice of venue, Manezhnaya Square, in the heart of Moscow. The square has a long history at the center of Moscow life and is associated with the mass popular demonstrations following the fall of communism and the failed coup d'état. More recently, in 2010, it was the venue for mass demonstrations of nationalism following the shooting of a Russian football fan by a migrant from North Caucasus; the chants that day were "Russia for Russians, Moscow for Muscovites". (Russia is the most ethnically diverse of all nations.)
Location, Location, Location
In speaking at Manezhnaya Square, Putin was speaking from the belly of Moscow, a location synonymous with nationalism and he was playing to the old fears:
"We have shown that our people are truly able to easily distinguish between the desire for progress and renewed political provocation that has only one objective – to destroy Russian sovereignty and usurp power. The Russian people have now shown that in our country such choices and scenarios will not pass. THEY SHALL NOT PASS."
The final phrase has a martial quality. It was not simply defiant.
Putin's choice of venue, his language, his characterisation of the opposition, his description of the threat, do not speak to progress but old fears:
"We have shown indeed, that no one can enslave us. No one and nothing can enslave us."
"Enslave" is not only a loaded word, it also an old world word. Even in his very language, Putin does not look forward to a new future.
Repetition works both ways
As already noted, it was a short speech – such that the use of repetition was especially marked.
For example:
"We won today, thanks to the overwhelming support of the overwhelming majority of our voter."
The repetition of "overwhelming" provides emphasis but it is also heavy. The word is so obviously repeated to persuade. It is the same with: "We won in an open and fair contest!  Thank you friends, thank you!   We won in an open and fair contest."
Again, the repetition of "open" and fair contest" in these few words both stresses and undermines Putin's point. And at the close of the speech he repeats the promise he made at the beginning: "I promised you that we would win.  We did. We won." Indeed that one word, "win" dominates the speech – conveying that it was all that mattered – but also perhaps "at any cost"?
Putin began the speech in tears of gratitude. They were tears of sincerity. But laced through the words and technique and location of the speech was a sense of fear.
To read the full text of Vladimir Putin's speech, visit VoiceGig.